Treatment
Approach Considerations
Neonatal lupus erythematosus (NLE) that affects the skin (see the image below), blood, spleen, or liver is usually self-limited and resolves without intervention within 2-6 months.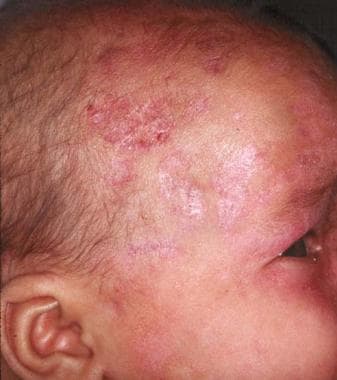 This child was one of a pair of fraternal twins. Her sibling was not affected, although the mother and both infants had similar autoantibodies in their circulations. Eventually, the lesions seen here resolved and healed without sequelae.
Treatment should be supportive and depends on the specific manifestations present.
Treatment of cutaneous NLE is not required as lesions resolve without scarring. However, in cases in which therapy is desired, treatment includes mild topical corticosteroids, antimalarial agents, and, possibly, laser treatment for residual telangiectasia. Photoprotection such as sunscreen and protective clothing is highly desirable, because solar exposure may precipitate skin lesions.
The type of treatment and the long-term prognosis for neonates with cardiac rhythm and conduction disturbances depends on the presence of underlying congenital heart abnormalities. Systemic corticosteroids may be used to treat or prevent cardiac NLE, but they are generally not recommended for established third-degree heart block as this condition is typically irreversible. While intravenous immunoglobulin (IVIG) has not been helpful in preventing congenital heart block, IVIG combined with corticosteroids administered prenatally to mothers may be helpful in preventing fetal cardiomyopathy or endocardial fibroelastosis. [32, 33] In severe cases, NLE that affects the heart may result in cardiac failure and death. A pacemaker is often necessary.
Consider transfer to a tertiary care center for all children and neonates with lupus erythematosus (LE). Consultations with specialists in dermatology, cardiology, rheumatology, nephrology, neurology, hepatology, immunology, and hematology may also be indicated.
Management of cutaneous and systemic LE in children is similar to management in adults and depends on specific disease manifestations. Therapy is directed towards any internal organ involvement and the prevention of dyspigmentation, disfigurement, and scarring as a result of cutaneous disease.
Prevention and Long-Term Monitoring
Observe mothers with positive autoantibodies and/or mothers who give birth to a child with neonatal lupus erythematosus (NLE). [34] Mothers of such neonates, particularly neonates with congenital heart block, have at least a 2- to 3-fold increased risk of subsequent affected neonates. An estimated 15-25% of subsequent pregnancies are affected. [34] Therefore, carefully monitor subsequent pregnancies with serial ultrasonography and echocardiography, particularly at 18-24 weeks gestation.
Fluorinated systemic steroids may help prevent NLE. Intravenous immunoglobulin (IVIG) merits evaluation as a potential prophylactic approach in mothers who have previously had an affected child. [35] While neither of 2 recent studies demonstrated benefit in outcome IVIG, [36, 37] a recent study suggests that prenatal administration of IVIG along with corticosteroids may decrease the risk for fetal cardiomyopathy or endocardial fibroelastosis. [33]
The use of hydroxychloroquine for anti-Ro/SSA–positive mothers with systemic lupus erythematosus (SLE) has been associated with a lower rate of NLE during pregnancy. [38] In addition, aggregate multinational data have revealed that maternal use of hydroxychloroquine reduces the risk of NLE in subsequent pregnancies for mothers who are anti-Ro/SSA positive and have previously given birth to an infant with cardiac NLE, regardless of maternal health status. [39]
Consult an obstetrician with experience with high-risk pregnancies, and consider administration of prednisolone or fluorinated steroids during subsequent pregnancies to prevent NLE. In at least one instance, congenital heart block was prevented with the use of systemic corticosteroids beginning at 10 weeks' gestation, azathioprine shortly thereafter, and plasmapheresis beginning at 18 weeks' gestation. [40]
Children with NLE need continued follow-up, especially before adolescence and in cases in which the mother herself has an autoimmune disease. [41] Although the child may not be at increased risk of developing SLE, the development of some form of autoimmune disease in early childhood may be of concern.
Patients with NLE and cardiac involvement require regular monitoring to assess cardiac function and the need for a pacemaker. Thus, serial echocardiography to monitor for a prolonged PR interval may be warranted.
Patients with cutaneous NLE do not require monitoring after lesions resolve. Although children with cutaneous disease may be more prone to develop lupus erythematosus (LE) later in life, this reflects genetic predisposition, rather than the occurrence of NLE earlier in life. Nonaffected siblings are also at risk for the development of SLE.
What would you like to print?