Workup
Laboratory Studies
The following studies may be indicated in transient synovitis (TS):
Complete blood cell (CBC) count: The white blood cell (WBC) count may be slightly elevated.

Erythrocyte sedimentation rate (ESR)

The erythrocyte sedimentation rate (ESR) may be slightly elevated. One study found that the combination of an ESR greater than 20 mm/h and/or a temperature greater than 37.5°C identified 97% of individuals with septic hip. [11]

Another study by Kocher et al used 4 independent predictors of septic arthritis to distinguish it from transient synovitis and the need for further workup. [12] They concluded that patients who were nonweightbearing and had a history of fever, an ESR greater than 40 mm/hr, and a WBC count greater than 12,000 cells/mm had a 99.6% predicted probability of septic arthritis. A 2014 retrospective multicenter study to assess the Kocher predictive algorithm found that because of the overlapping features of K kingae arthritis of the hip and transient synovitis in children younger than 3 years of age, Kocher predictive algorithm is not sensitive enough for differentiating between these 2 conditions. To exclude K kingae arthritis, blood cultures and nucleic acid amplification assay should be performed in young children presenting with irritation of the hip, even in the absence of fever, leukocytosis, or a high Kocher score. [13]

Luhmann et al applied these 4 criteria to their patient population and discovered a 59% predicted probability. [14] However, when they applied the 3 criteria of history of fever, a serum WBC count of greater than 12,000 cells/mm, and a previous health-care visit, they found a predicted probability of 71% that the patient had septic arthritis.

Urinalysis and culture: Both of these tests should be normal.

Urine glycosaminoglycans: One study found a decreased level of urine glycosaminoglycans in patients who were diagnosed with Perthe disease, compared with those with transient synovitis and a control group.

Procalcitonin levels: These may be helpful in distinguishing between bacterial infections and inflammatory processes. Procalcitonin levels remain low during bouts of inflammatory disease but increase in septic arthritis and may be even more useful in distinguishing septic arthritis from osteomyelitis. [19]
A study by Clever et al used a novel serum-based panel, which included transforming growth factor alpha, interleukin (IL)-7, IL-33, and IL-28A, to distinguish septic arthritis from transient synovitis in 22 pediatric patients who presented with joint and/or limb pain. The panel accurately categorized 20 of the 22 patients, with a sensitivity and specificity of 90.9%. [20]
Depending on the history, consider Lyme serology, antinuclear antibody, rheumatoid factor, HLA-B27, and tuberculosis skin testing. [10, 21]
A study's results suggest that most investigations performed during the initial work-up in patients suspected of transient synovitis of the hip are unnecessary and should routinely include only WBC count, CRP level, erythrocyte sedimentation rate, and hip radiography and ultrasonography. [22]
Imaging Studies
Plain radiography
Radiographs exclude bony lesions (eg, occult fracture, osteoid osteoma) unless the child had onset of symptoms within 3 days, has no fever, appears well, and has only mildly restricted abduction without guarding against movement in other planes. Plain films may be normal for months after onset of symptoms. Medial joint space may be slightly wider in the affected hip (see the image below).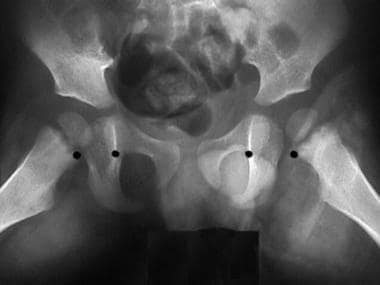 Widening of the joint space. Note that the space is wider on the left side. Discrepancies greater than 1 mm indicate the presence of fluid.
If excess fluid is present or the patient has early Legg-Calvé-Perthes (LCP) disease, plain radiography may reveal an increase in the teardrop distance (ie, distance between the medial acetabulum and ossified part of the femoral head). Compared with the other side, this distance should be the same or within 1 mm. One half to two thirds of patients with transient synovitis may have an accentuated pericapsular shadow.
In one study, as many as 58% of patients with transient synovitis had the Waldenström sign (ie, lateral displacement of the femoral epiphyses with surface flattening). Other studies have reported a positive obturator sign in established incidents of transient synovitis. This is a prominent shadow caused by the soft tissues that overlie the interpelvic aspect of the acetabulum. Radiography may reveal diminution of the definition of soft tissue planes around the hip joint or slight demineralization of the bone of the proximal femur, particularly in the metaphyseal region.
Ultrasonography
Although extremely accurate for detecting an intracapsular effusion, ultrasonography does not assist in determining the cause and is used best to guide hip aspiration. An effusion is present if ultrasound demonstrates capsular distension greater than 2 mm. Occasionally, the radiologist can differentiate between transient synovitis and early LCP on the basis of effusion rather than synovial membrane thickening. However, ultrasonography cannot rule out osteomyelitis or soft tissue infection.
Magnetic resonance imaging
In settings in which routine aspiration of effusions is not performed, a magnetic resonance imaging (MRI) scan may help physicians differentiate transient synovitis from septic arthritis. [23, 24] A study by Lee et al found that septic arthritis demonstrated signal intensity alterations in the bone marrow of the affected hip. Yang et al confirmed this finding in a study on 49 patients with transient synovitis and 18 patients with septic arthritis. [25] He demonstrated not only the statistically significant finding of signal intensity in the bone marrow, but also found signal intensity alterations and contrast enhancement of the soft tissue in patients with septic arthritis. Furthermore, the statistically significant findings in the patients with transient synovitis included contralateral (asymptomatic) joint effusions and the absence of signal intensities in the bone marrow. Both diseases showed ipsilateral effusions with synovial thickening and enhancement.
Dynamic contrast-enhanced MRI findings can be used to differentiate septic arthritis from transient synovitis in the joint. [26]
Other Tests
Bone scintigraphy demonstrates mildly elevated uptake; however, bone scintigraphy may also reveal a transient decrease in uptake of technetium 99m phosphate. Bone scintigraphy does not help the physician differentiate etiologies.
Procedures
Perform aspiration with ultrasonographic guidance in all individuals in whom ultrasonography has exhibited evidence of an effusion and any of the following predictive criteria are present:
Temperature greater than 99.5°F

ESR greater than or equal to 20 mm/h

Severe hip pain and spasm with movement
The aspirate should assist the physician in differentiating transient synovitis from septic arthritis. The physician can confirm 30-50% of septic arthritis incidents with Gram stain. In individuals with septic arthritis, the WBC count varies (25,000-250,000/mcL); however, in these individuals, the WBC count consistently demonstrates 90% polymorphonuclear cells. Also, in persons with septic arthritis, the glucose is often less than 40 mg/dL or is markedly different from the serum glucose.
In one study, 36 children with an effusion underwent aspiration with ultrasonographic guidance. The Gram stain identified 1 child with an acute infection. The 35 children with a negative Gram stain were sent home with no further complications.
In another study published by Skinner et al, 25 children with a clinical diagnosis of transient synovitis were observed. [27] They all had a joint effusion by ultrasound, but no aspiration was performed. The mean age of the patient population was 6 years, the average size of the effusions was 9 mm, and the distribution between the sides affected was equal. They found that by 2 weeks postdiagnosis, all patients were pain and limp free. The effusions, although still present in some, were decreasing in size. They concluded that transient synovitis is benign and can be treated with supportive therapy.
What would you like to print?