Workup
Approach Considerations
The diagnosis of juvenile idiopathic arthritis (JIA) is based on the history and physical examination findings. No laboratory studies are diagnostic for JIA, and indeed, all laboratory study findings may be normal in children with this disorder. However, laboratory studies help to exclude other underlying disorders, classify the type of arthritis, and evaluate for extra-articular manifestations of JIA. Imaging of affected joints is usually indicated.
When physical findings do not document definite arthritis, further evaluation is warranted. The choice of studies varies on the basis of the specific circumstances.
Go to Imaging in Juvenile Rheumatoid Arthritis for complete information on this topic.
Inflammatory Markers
The erythrocyte sedimentation rate (ESR) or C-reactive protein (CRP) level is usually elevated in children with systemic-onset JIA (with a disproportionate increase in the CRP) and may be elevated in those with polyarticular disease; however, it is often within the reference range in those with oligoarticular disease. When elevated, inflammatory markers can be used to monitor disease activity.
Other markers of inflammation include thrombocytosis, leukocytosis, complement, and, in a reverse fashion, albumin and hemoglobin.
In a study that examined whether the risk of JIA relapse can be identified by biomarkers in the absence of clinical signs of disease activity, Gerss et al found that 35 of 188 patients with JIA experienced a flare within 6 months. [22] Myeloid-related proteins 8/14 (MRP8/14) and S100A12 levels were significantly higher in subjects who developed flares than in those with stable remission. The best single biomarker for predicting flare was S100A12. Predictive performance of this biomarker may be improved by combining it with high-sensitivity C-reactive protein (CRP).
Complete Blood Count and Metabolic Panel
Lymphopenia is not uncommon because of emigration of activated lymphocytes out of the circulation into synovium. However, neutropenia is uncommon and, particularly with lymphocytosis or thrombocytopenia, raises the possibility of acute lymphocytic leukemia.
A complete blood count, liver function tests (to exclude the possibility of viral or autoimmune hepatitis), and assessment of renal function with serum creatinine levels should be done before starting treatment with nonsteroidal anti-inflammatory drugs (NSAIDs), methotrexate (MTX), or tumor necrosis factor–alpha inhibitors.
Antinuclear Antibody Testing
As many as 70% of children with oligoarticular JIA have positive ANA assays. However, a positive ANA should also raise suspicion of systemic lupus erythematosus (SLE). Overlap between the manifestations of the two disorders may lead to initial misdiagnosis of SLE as JIA.
A positive ANA is a marker for increased risk of anterior uveitis. Children younger than 6 years at arthritis onset with a positive ANA finding are in the highest risk category for development of uveitis and need slit lamp screening every 3-4 months. Titers do not correlate with disease activity.
Additional Laboratory Tests
In systemic-onset JIA, total protein and albumin levels are often decreased during active disease, and fibrinogen, ferritin and D-dimer levels are often elevated. Laboratory results that can help to rule out JIA include angiotensin-converting enzyme (ACE) elevation, which may be indicative of sarcoidosis, and antistreptolysin 0 (AS0) and anti-DNAse B elevations, which may indicate acute rheumatic fever or poststreptococcal arthritis.
Perform a urinalysis to exclude the possibility of infection (as a trigger for JIA or transient postinfectious arthritis). Proteinuria (>0.5 g/d or 3+ positive on dipstick testing) or cellular casts is consistent with renal involvement in SLE.
In patients with systemic-onset JIA, the following test results are indicative of the development of macrophage-activating syndrome (MAS):
Normalization or decrease in white blood cell (WBC) count

Hemorrhages (disseminated intravascular coagulation–like pattern)
Radiography
When only a single joint is affected, radiography is important to exclude other diseases, such as osteomyelitis. Basic radiographic changes in JIA (see the images below) include the following:
Osteopenia and/or osteoporosis

Intra-articular bony ankylosis

Epiphyseal compression fracture

Synovial cysts

Ankylosis in the cervical spine at several levels due to long-standing juvenile rheumatoid arthritis (also known as juvenile idiopathic arthritis).

Widespread osteopenia, carpal crowding (due to cartilage loss), and several erosions affecting the carpal bones and metacarpal heads in particular in a child with advanced juvenile rheumatoid arthritis (also known as juvenile idiopathic arthritis).
The main limitation of conventional radiography is that it does not allow direct examination of the articular cartilage, synovium, and other important noncalcified structures in a joint.
Go to Imaging in Juvenile Rheumatoid Arthritis for complete information on this topic.
Computed Tomography and Magnetic Resonance Imaging
CT scanning is the best method for analyzing bony abnormalities, but it has been largely superseded by MRI in the overall assessment of JIA. The major disadvantage of CT scanning is that it involves a substantial radiation dose. Perform CT scanning of the long bones when considering osteoid osteoma is suspected.
MRI is helpful when considering trauma in the differential diagnosis. In addition, imaging of the TMJ, sacroiliac joint, cervical spine, midfoot, hip, or shoulder is useful in diagnosing inflammatory arthritis. (See the image below.)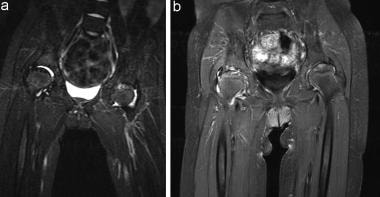 (A) T2-weighted MRI shows high signal in both hips, which may be due to hip effusions or synovitis. High signal intensity in the left femoral head indicates avascular necrosis. (B) Coronal fat-saturated gadolinium-enhanced T1-weighted MRI shows bilateral enhancement in the hips. This indicated bilateral active synovitis, which is most pronounced on the right. Because the image was obtained with fat saturation, the hyperintensity in both hips is pathologic, reflecting an inflamed pannus.
MRI provides the most sensitive radiologic indicator of disease activity. The modality can depict synovial hypertrophy, define soft tissue swelling, and demonstrate excellent detail of the status of articular cartilage and overall joint integrity. [23, 24, 25, 26, 3, 4, 5, 27, 28]
To improve visualization of synovial hypertrophy and improve detection of cartilaginous erosions when an inflammatory arthritis is suspected, contrast-enhanced sequences should be performed.
Synovitis and a joint effusion may have similar hyperintensity on T2-weighted (T2W) and short-tau inversion recovery (STIR) images. Therefore, gadolinium-enhanced T1-weighted (T1W) MRIs are necessary to accurately define active synovitis.
Note that gadolinium-based contrast agents (gadopentetate dimeglumine [Magnevist], gadobenate dimeglumine [MultiHance], gadodiamide [Omniscan], gadoversetamide [OptiMARK], gadoteridol [ProHance]) have been linked to the development of nephrogenic systemic fibrosis (NSF) or nephrogenic fibrosing dermopathy (NFD). For more information, see the Medscape Reference topic Nephrogenic Systemic Fibrosis.
Go to Imaging in Juvenile Rheumatoid Arthritis for complete information on this topic.
Ultrasonography
On ultrasonograms, inflamed synovium can appear as an area of mixed echogenicity lining the articular cartilage; the vascularity of the synovium can be assessed with Doppler flow studies. Serial measurements of synovial thickness and effusion volumes have been used to monitor disease progression. [29] It can be helpful to evaluate joints that are difficult to palpate, such as the hip and shoulder.
Some researchers claim that ultrasonography is more sensitive than plain radiography in the detection of cartilage erosions and effusions. Ultrasound has the advantages of no exposure to ionizing radiation; it can be done in the clinic is an awake, moving child; and it can help guide injections.
Go to Imaging in Juvenile Rheumatoid Arthritis for complete information on this topic.
Nuclear Imaging
Bone scanning, which can be used in the assessment of JIA, is characterized as follows:
This modality can be used when physical findings do not document definite arthritis.

It can also be used to identify a potential focus of osteomyelitis, osteoid osteoma or other abnormality.

Bone scanning is characterized by high sensitivity and low specificity

It may be combined with single-photon emission CT (SPECT) scanning to increase sensitivity in the 1 or more foci of abnormal isotopic accumulation.

Bone scintigraphy is primarily used in the determination of the distribution of JIA, but the substantial radiation dose from this modality is a major disadvantage
Go to Imaging in Juvenile Rheumatoid Arthritis for complete information on this topic.
Echocardiography
In a child who has nonspecific rash, adenopathy, and possible mucocutaneous changes, perform echocardiography to exclude coronary arterial dilation resulting from Kawasaki disease. In an individual who has findings suggestive of SLE (eg, nephritis, pleuritic chest pain, thrombocytopenia), perform echocardiography to exclude valvular disease, although mild dilation may be seen in some patients with systemic-onset JIA.
Other Studies and Procedures
Perform dual energy radiographic absorptiometry (DRA) scanning to document osteopenia in children with JIA, especially in children requiring long-term steroids (systemic JIA) or with prolonged widespread arthritis.
Perform arthrocentesis to exclude septic arthritis in a child with monoarticular swelling. Synovial biopsy may be helpful to exclude other diagnoses, particularly when the knee is affected (eg, villonodular synovitis, granulomatous arthritis, foreign body synovitis). Synovial biopsy may reveal synovial infiltration with plasma cells, mature B lymphocytes, and T lymphocytes, with areas of synovial thickening and fibrosis.
Pericardiocentesis is used in an intensive care unit (ICU) setting to treat severe pericarditis.
What would you like to print?