Workup
Approach Considerations
Takayasu arteritis (Takayasu arteritis) has no specific markers. However, the following results can be found in laboratory studies:
Complete blood count (CBC) reveals a normochromic, normocytic anemia in 50% of patients with Takayasu arteritis; acute phase reactants are elevated, with leukocytosis and thrombocytosis

Westergren erythrocyte sedimentation rate is elevated

Comprehensive metabolic profile may indicate elevated transaminases and hypoalbuminemia

The von Willebrand factor–related antigen (factor VIII–related antigen) may be elevated

Antiendothelial antibodies are present

Antinuclear antibody results are usually negative

Antineutrophil cytoplasmic antibody results are usually negative

Rheumatoid factor is elevated in 15% of individuals with Takayasu arteritis

Increased levels of immunoglobulins G, M, and A are present
Patients with normal study results can still have progressive disease in the large vessels, as demonstrated on pathology specimens. The biomarker pentraxin 3, a protein closely related to C-reactive protein, may be positive in some patients with active disease with a normal C-reactive protein. [16] It is synthesized locally, in response to innate immune signaling by Toll receptors and reflects treatment of disease and relapse. The biomarker matrix metalloproteinase (MMP)–9 is also synthesized locally and is elevated in active disease, compared with normal controls and inactive disease. [17] Whereas the white blood cell count and sedimentation rate decrease with prednisolone treatment, pentraxin 3 and MMP-9 do not.
Patients with ischemia in all 4 extremities may have falsely low peripheral blood pressures. Accurate blood pressure monitoring in such patients can be obtained reliably only by central systemic measurements.
Arteriography
Arteriography is the criterion standard for assistance in the diagnosis of Takayasu arteritis. It is performed either with invasive angiography or, more frequently, with magnetic resonance angiography (MRA). These modalities are most helpful in identifying changes in the vessel lumen. They are less successful in delineating mural disease. Drawbacks to arteriography include morbidity from the use of contrast dye in patients with renal disease and cumulative radiation exposure over time, which can be avoided by using MRA.
Arteriography often demonstrates long, smooth, tapered narrowings or occlusions. The most frequent lesions are stenotic. Stenoses occur in 90-100% of patients with Takayasu arteritis and aneurysm formation in only 27-40%. Some authors recommend arteriography of the entire aorta. Peripheral blood pressure monitoring is frequently inaccurate in persons with Takayasu arteritis; pressure readings during angiography alone may reveal aortic root hypertension.
CT Scanning and MRI
CT scanning and magnetic resonance imaging (MRI) are useful for serial examinations and diagnosis in the early phase of Takayasu arteritis. They may reveal mural thickening of the aorta and luminal narrowing. [18, 19] (See the images below.)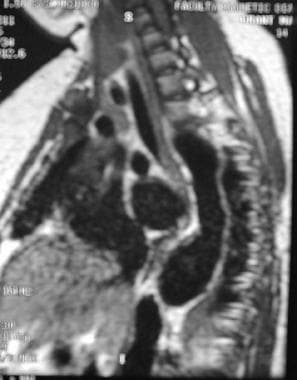 MRI of thorax of 15-year-old adolescent girl with Takayasu arteritis. Note aneurysms of descending aorta.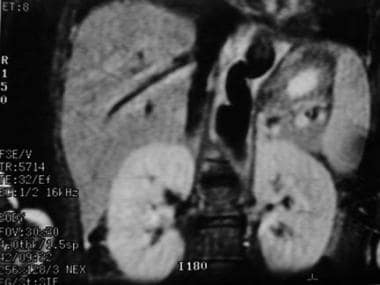 Coronal MRI of abdomen of 15-year-old adolescent girl with Takayasu arteritis. Note thickening and tortuosity of abdominal aorta proximal to kidneys.
Use of contrast may reveal inflammatory lesions prior to the development of stenoses; these lesions may be missed by angiography. Aortic lesions, including stenosis, dilatation, wall thickening, and mural thrombi, are well visualized on MRI, which is less adequate in visualizing distal lesions of the subclavian vessels and common carotids. (See the images below.) Ultrasound can be used for monitoring in these areas. Delayed contrast techniques can demonstrate enhancement of the aortic wall, confirmed by a pathology specimen in a patient with normal inflammatory markers. [20, 21]
Gadolinium-enhanced cardiovascular MRI has also been used to demonstrate myocardial perfusion defects, which may be important in long-term prognosis.
Noncontrast, T2-weighted, short inversion imaging recovery (STIR) images may be used to monitor edema in the aortic wall, which may be a surrogate for inflammation; edema was found in 94% of patients with clinically active disease.
Large vessel edema was found in 56% of patients in clinical remission, similar to the 42-44% of patients in clinical remission who were found to have active vasculitis on pathology from bypass specimens. The prognostic significance of vessel edema is uncertain, as progression of lesions occurs in areas without edema, and progression may be absent from areas with edema on subsequent studies.
Additional Imaging Studies
Additional imaging studies include the following [22, 23] :
18 F-fluorodeoxyglucose positron emission tomography (18 F-FDG PET) scanning – This technique shows FDG uptake in active lesions, as well as other areas without mural thickening. Enhancement disappears with treatment and is independent of inflammatory mediators. The ability to identify intramural lesions at the inflammatory stage, prior to morphological changes, is becoming possible.

Gallium-67 radionuclide scan - This scan may demonstrate increased uptake in the aorta and branches and is useful in comparison with MRI for large lesions

High-resolution ultrasonography - Duplex Doppler may be used to evaluate and monitor disease in the common carotids and subclavian arteries, with carotid evaluation revealing a homogenous, circumferential thickening of the vessel wall that is distinguishable from atherosclerotic thickening; this imaging study is only useful in evaluating superficial vessels. It can be used serially to follow flow and lumen.

Chest radiography - Chest radiography may reveal widening of the ascending aorta, an irregular descending aorta, aortic calcifications, and rib notching (late findings)

Echocardiography - Perform echocardiography at baseline to evaluate the aortic valve; Perform follow-up echocardiography as indicated to monitor aortic insufficiency from aortic root dilatation.
Histologic Findings
Mononuclear infiltration of the adventitia with perivascular cuffing of the vasa vasorum occurs early in the disease.
Granulomatous changes may be observed in the tunica media with Langerhans cells and central necrosis of elastic fibers and smooth muscle cells. Later, fibrosis of the media and acellular thickening of the intima may compromise the vessel lumen. Grossly, wrinkling of the intima is found.
Histologic specimens seldom are available, due to the large vessels affected, with the exception of specimens obtained during autopsy and bypass surgery. The most common infiltrates after CD4 T cells are CD19/CD20 B cells.
What would you like to print?