Presentation
History
As vasculitides are systemic processes, a comprehensive history and full review of systems is necessary.
Possible triggers include the following:
Recent infections (upper respiratory tract infections, especially streptococcal; tuberculosis [TB])

Vaccinations - Eg, an Italian study found evidence that the measles-mumps-rubella (MMR) vaccine increases the risk of Henoch-Schönlein purpura (odds ratio = 3.4) [28]
Presenting features include the following:
Skin – Nodules, which may be painful, erythematous, or ulcerated; purpura; petechiae; papulopustular lesions; erythema nodosum; livedo reticularis; Raynaud phenomenon; lower extremity swelling

Recurrent oral and/or genital ulcerations that heal with scarring

Nasal/sinus – Allergic rhinitis, nasal congestion, recurrent epistaxis, sinus pain, tearing

Pulmonary – Chronic cough, hemoptysis, shortness of breath, stridor, wheezing, chest pain

Musculoskeletal – Joint pain or swelling, myalgias, calf pain

Renal – Hematuria, hypertension

GI tract – Abdominal pain, hematochezia, vomiting, nausea

Genitourinary – Testicular swelling and/or pain

Vascular – extremity claudication, blood pressure difference between limbs, pre-syncope/fainting spells

Neurological – Headache, seizure, focal neurological deficits (eg, stroke, cranial nerve palsy, vision loss, fine motor deficits, movement abnormalities), diffuse neurological deficits (eg, cognitive decline, poor school performance), mononeuropathy or polyneuropathy (eg, numbness, paresthesias, hand/foot drop, weakness), visual/auditory hallucinations, fluctuating/decreased level of consciousness/encephalopathy
Past medical history may include the following:
Recurrent sinusitis and pneumonias

Asthma and allergic rhinitis precede development of Churg-Strauss syndrome
Family history may include an increased risk of Kawasaki disease in siblings.
Clinical features common in Henoch-Schönlein purpura include the following:
Palpable purpuric rash (must be present)

Arthritis (acute, any joint) or arthralgia

Hematuria and/or proteinuria

Lower limb swelling may be seen
Clinical features common in Kawasaki disease include the following:
Fever, at least 5 days in duration, unresponsive to antibiotic therapy

Polymorphous exanthem (nonvesicular)

Changes in peripheral extremities (erythema and/or edema)

Cervical lymphadenopathy, usually unilateral, larger than 1.5 cm

Bilateral, non-purulent, conjunctivitis

Changes of lips and oral cavity - Injection of oral and pharyngeal mucosa, fissured lips

Irritability, arthralgia/arthritis
Physical Examination
General
Vital sign measurements should include 4-limb blood pressure measurement to look for a difference of more than 10 mm Hg between limbs.
Head and Neck
Funduscopy and ophthalmologic assessment for conjunctivitis, uveitis, scleritis and/or retinal vasculitis, and optic neuritis is indicated. Orbital inflammation (lid edema/erythema, proptosis) may be seen in granulomatosis with polyangiitis and microscopic polyangiitis. [29]
Inspection of nasal cavity for bleeding, ulceration, and septal perforation is indicated.
Other findings may include the following:
Nasal bridge swelling, pain or saddle-nose deformity (See the image below.)

Patient with Wegener granulomatosis and saddle-nose deformity.

Paranasal sinus tenderness

Oral ulcers seen in Behçet disease

Otitis, mastoiditis, hearing loss
Respiratory
The following may be noted:
Increased work of breathing, tachypnea, hypoxia
Cardiovascular
The following may be noted:
Pulselessness, inequality of pulses

Bruits over major arteries

Increased capillary refill time

Abnormal heart sounds, including gallop rhythm, muffled heart sounds, rub
Abdominal and genitourinary
Findings may include the following:
Abdominal tenderness (focal or diffuse)

Hepatomegaly, splenomegaly

Blood on rectal examination

Genital ulcers or scars in Behçet syndrome

Testicular pain and/or swelling
Dermatologic
All patients with Henoch-Schönlein purpura have palpable purpuric rash, typically over buttocks and lower extremities.
Dermatologic manifestations of Kawasaki disease include polymorphous exanthem and red/swollen extremities.
Patients with polyarteritis nodosa have deep red tender subcutaneous nodules that can become ischemic and necrotic (see the images below).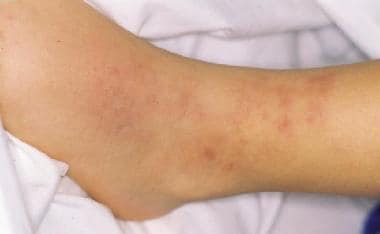 Tender erythematous nodules in cutaneous polyarteritis nodosa (PAN).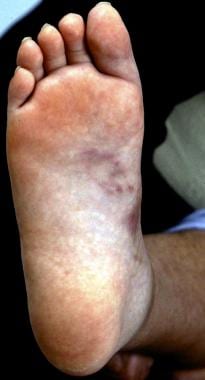 Nodules on sole of foot in cutaneous polyarteritis nodosa (PAN).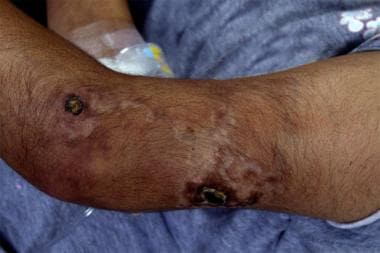 Necrotic lesions of polyarteritis nodosa (PAN).
Livedo reticularis may also be seen in childhood polyarteritis nodosa.
Musculoskeletal
These findings may include the following:
Arthritis (joint swelling, effusions, decreased range of motion and/or stress pain)
Neurologic
These findings may include the following:
Peripheral neuropathy, paresthesia

Cranial nerve palsies, vision loss, visual field defects

Altered level of consciousness

Focal neurological deficits, including stroke

Diffuse neurological deficits

Hallucinations, bizarre behavior
What would you like to print?