Workup
Laboratory Studies
Investigations must be performed to detect signs of inflammation, to determine the type and extent of organ involvement, to test for vasculitis-specific autoantibodies, and to rule out secondary causes. Note that the degree of inflammation often differs between diseases and among individual patients.
General laboratory tests
CBC count and differential may reveal normochromic, normocytic anemia; leukocytosis; thrombocytosis consistent with inflammatory process; and eosinophilia in Churg-Strauss syndrome.
Erythrocyte sedimentation rate (ESR) and C-reactive protein (CRP) may be elevated, but these findings are not sensitive or specific.
C3 and C4 levels are usually elevated, except in hypocomplementemic urticarial vasculitis.
Albumin levels may be low due to chronic inflammation, third spacing, or vascular leakage.
von Willebrand factor antigen (factor VIII-related antigen) may be elevated.
Organ-specific tests
BUN, creatinine, liver enzyme levels may be abnormal, depending on involvement.
Urine studies for hematuria and/or proteinuria are indicated.
Lumbar puncture may reveal pleocytosis, elevated protein levels, and/or elevated opening pressure in childhood primary angiitis of the CNS (PACNS)
Autoantibody tests
The initial test for antineutrophil cytoplasmic antibody (ANCA) is indirect immunofluorescence to detect staining pattern, either cytoplasmic or perinuclear.
If positive results are noted, test for reactivity to proteinase 3 (PR3) and myeloperoxidase (MPO) by enzyme-linked immunoassay (ELISA)
ANCA positivity is noted in approximately 90% of pediatric patients with granulomatosis with polyangiitis (GPA) (formerly Wegener granulomatosis), 79% of who are cytoplasmic. [6]
PR3-ANCA and MPO-ANCA positivity have a high sensitivity and specificity for the diagnosis of GPA and microscopic polyangiitis (MPA), respectively.
The association of Churg-Strauss syndrome and ANCA positivity is approximately 40%.
Note that an atypical ANCA finding is nonspecific and may be seen in other inflammatory conditions such as infection and inflammatory bowel disease.
Anti-glomerular basement membrane (GBM) antibody testing is indicated for pulmonary renal syndromes.
Other autoantibodies such as anti-nuclear antibody (ANA) and rheumatoid factor (RF) are rarely positive
Infectious work-up (as indicated)
See the list below:
Bacterial - Mycoplasma PCR and serology, antistreptolysin O test (ASOT), syphilis serology, Mantoux skin test

Viral - Serology for hepatitis B and C, parvovirus B19, HIV, herpes simplex virus, Epstein-Barr virus (EBV), cytomegalovirus (CMV), varicella
Thrombophilia investigations
Antiphospholipid antibody syndrome studies include the following: [30]
Prolonged activated partial thromboplastin time (aPTT), which does not correct with mixing

Screening for lupus anticoagulant

Anticardiolipin antibody by ELISA

Anti-β2-microglobulin-1 antibody by ELISA
Classification criteria for pediatric antiphospholipid antibody syndrome includes the following clinical criteria for vascular thrombosis: One or more clinical episodes of arterial, venous, or small-vessel thrombosis, in any tissue or organ. Thrombosis must be confirmed by objective validated criteria (ie, unequivocal findings of appropriate imaging studies or histopathology). For histopathologic confirmation, thrombosis should be present without significant evidence of inflammation in the vessel wall.
The laboratory criteria include the following:
Anticardiolipin antibody of immunoglobulin G (IgG) and/or immunoglobulin M (IgM) isotype in serum or plasma - Must be present in medium or high titre (ie, >40 GPL or MPL, or >99th percentile) on two or more occasions, at least 12 weeks apart, measured by a standardized ELISA

Anti-β2 glycoprotein-I antibody of IgG and/or IgM isotype in serum or plasma - Must be present in titre >99th percentile, on two or more occasions, at least 12 weeks apart, measured by a standardized ELISA

Lupus anticoagulant in plasma - Must be present on two or more occasions at least 12 weeks apart, detected according to the guidelines of the International Society on Thrombosis and Hemostasis
Pediatric antiphospholipid syndrome is considered to be present if the clinical criterion and at least I of the laboratory criteria are met.
Other thrombophilia work-up includes protein C, protein S, antithrombin III, factor V Leiden mutation, homocysteine, prothrombin gene mutation (G20210A), and methylene tetrahydrofolate reductase (MTHFR) mutation.
Imaging Studies
Imaging is essential for evaluation of blood vessels and of end-organ damage. In particular, vascular imaging is often imperative for diagnosis and follow-up of the disease. Information regarding both luminal blood flow and vessel wall changes is important. Conventional angiography generally provides information about blood flow, clot formation, and collateral blood flow; whereas CT and/or magnetic resonance (MR) angiography provide visualization of vessel wall thickness and fragility, aneurysm formation, and overall disease activity.
End-Organ Imaging
Chest radiography
This is indicated to screen for pulmonary involvement in granulomatosis with polyangiitis (formerly Wegener granulomatosis), Churg-Strauss syndrome, microscopic polyangiitis, Takayasu arteritis (TA), and Behçet syndrome.
A characteristic of CSS is fluctuating infiltrates (see the image below).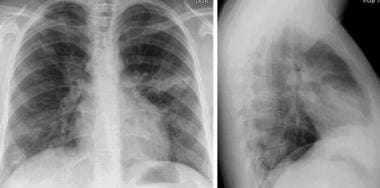 Chest radiography in Churg-Strauss syndrome (CSS) with pulmonary infiltrates.
CT scan of the sinuses
Turbinate mucosal thickening with associated sinusitis and possible erosive changes is seen in granulomatosis with polyangiitis (see the image below).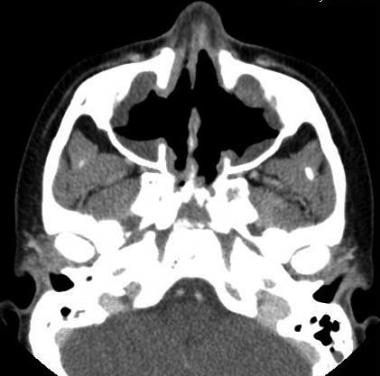 CT of sinuses in a patient with Wegener granulomatosis (WG) showing erosion and loss of sinus walls.
Orbital pseudotumors may be seen in granulomatosis with polyangiitis and microscopic polyangiitis.
CT scan of the chest
In granulomatosis with polyangiitis, nodules (may be cavitary and/or multifocal), ground-glass opacification, air-space opacification, mediastinal lymphadenopathy, and pleural thickening and effusion may be seen. [31]
In Churg-Strauss syndrome, nodules, ground-glass opacification, bronchial wall thickening or dilatation, consolidation, septal thickening, and tree-in-bud pattern may be seen (see the image below). [32]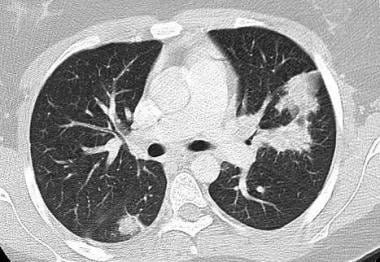 CT chest in a patient with Churg-Strauss syndrome (CSS) showing multiple nodules.
In microscopic polyangiitis, patchy or confluent bilateral areas of consolidation may be seen, mainly in lower lobes. [33]
Echocardiography
Echocardiography is indicated to assess for coronary artery involvement, especially in Kawasaki disease (KD)
Head CT scan or MRI
These studies may reveal acute ischemia or hemorrhage in patients with CNS symptoms
In large or medium-vessel childhood PACNS, T2-hyperintense focal areas of acute ischemia in a vascular distribution is noted. Diffusion weighted imaging (DWI) findings are positive. Vessel wall enhances with gadolinium.
In small-vessel childhood PACNS, T2-fluid-attenuated inversion-recovery (FLAIR) hyperintensities that do not conform to a vascular territory are noted. DWI findings are negative.
Vascular Imaging
CT angiography, MR angiography, or conventional angiography plus MRI vessel wall imaging (gadolinium enhancement)
These studies are used to assess for large and/or medium vessel vasculitis.
Angiography (CT, MR, conventional) of the aorta and its main branches is indicated when investigating for Takayasu arteritis.
The European Union League Against Rheumatism (EULAR) recommends MRI as a first imaging test for Takayasu arteritis and not conventional angiography. Only in cases that involve vascular intervention (eg, percutaneous transluminal balloon angioplasty or stenting) is conventional angiography recommended.

[34, 35]
Head MR angiography is diagnostic in large/medium vessel childhood PACNS.
Vascular imaging in polyarteritis nodosa (PAN) must be done with conventional angiography because medium-sized vessels are involved (site depends on clinical features); findings include "beading" of vessels caused by alternating areas of vascular narrowing and dilatation.
Consider angiography in Behçet disease (site depends on clinical features).
CT/MR venography is indicated if venous thrombosis is suspected in antiphospholipid antibody syndrome, Behçet disease, and polyarteritis nodosa.
Ultrasonography with Doppler
This is used to identify thromboses in deep venous system, renal vessels, and transcranial vessels.
Positron emission tomography (PET) scan
This can detect subtle evidence of inflammation to identify potential sites of vasculitis.
Other Tests
Other tests include the following:
Pulmonary function tests – Both obstructive and restrictive patterns seen in pulmonary vasculitis

Electrocardiography – To identify signs of myocarditis or pericarditis

Nerve conduction studies – In patients with peripheral nerve involvement

Electroencephalogram – In patients with CNS involvement

Bronchoscopy/lavage – May be required in patients with lung involvement
Procedures
Tissue biopsy may be necessary to confirm a diagnosis of vasculitis in systemic and cutaneous polyarteritis nodosa (PAN), ANCA vasculitides, childhood PACNS, and infrequently in Henoch-Schönlein purpura.
Henoch-Schönlein purpura - Skin and/or renal biopsy

Polyarteritis nodosa - Skin biopsy

ANCA-vasculitides - Sinus, renal, lung, and/or skin biopsy

Childhood PACNS - Lesional brain biopsy often needed in small-vessel CNS vasculitis
Histologic Findings
Histologic findings include the following:
Takayasu arteritis: Inflammatory infiltrate is composed of T cells. Macrophages are arranged into granulomas with giant cells. Concentric thickening of all layers of the artery wall (intima, media and adventitia) is noted.

Polyarteritis nodosa: Acute and segmental necrotizing vasculitis of medium-sized arteries is seen with an inflammatory infiltrate composed of neutrophils and eosinophils within the vessel walls and extravasation of erythrocytes and fibrin.

Churg-Strauss syndrome: In the lung, extravascular microgranulomas filled with eosinophils and intramural eosinophilic infiltrate are noted.

Granulomatosis with polyangiitis (GPA) (formerly Wegener granulomatosis): In the lung, granulomatous inflammation with mononuclear infiltrate including T cells, macrophages/histiocytes, and giant cells are noted.

GPA and microscopic polyangiitis: Renal histologic findings include "pauci-immune" (ie, little immune deposition on immunofluorescence) necrotizing glomerulonephritis with large circumferential crescents, segmental loss of basement membrane, and tubulointerstitial inflammation.

Henoch-Schönlein purpura: Immunofluorescence demonstrates deposition of IgA, C3, and fibrin in the walls of affected blood vessels within the dermis and the endothelial and mesangial cells of the kidney. Skin biopsy reveals features of leukocytoclastic vasculitis with infiltrate of neutrophils and mononuclear cells.

Childhood PACNS: Segmental nongranulomatous intramural infiltration of predominantly T lymphocytes involves small arteries, arterioles, capillaries, and/or venules. Surrounding reactive changes may include gliosis, calcification, and pallor of myelin staining.
What would you like to print?