Presentation
History
Patients with Weber-Christian disease present with cutaneous and systemic complaints. It is described as a relatively severe relapsing chronic condition.
Patients with Weber-Christian disease describe crops of lesions that appear and resolve during a period of weeks to months. The lesions are often symmetric in distribution, and the thighs and legs are most commonly involved. Individual nodules regress over the course of a few weeks.
Systemic symptoms of Weber-Christian disease include fever, malaise, nausea, vomiting, abdominal pain, weight loss, bone pain, myalgia, and arthralgia.
The etiology of Weber-Christian disease is unknown. Patients do not report a history of thermal, mechanical, or chemical trauma.
Physical Examination
Physical examination reveals erythematous, edematous, and tender subcutaneous nodules. See the images below.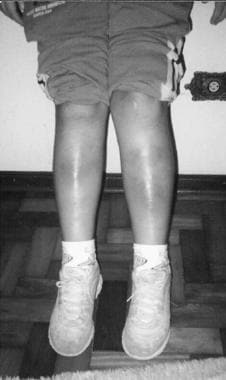 Lesion of erythema nodosum: tender, erythematous, nodular lesions located over the extensor surfaces of the legs.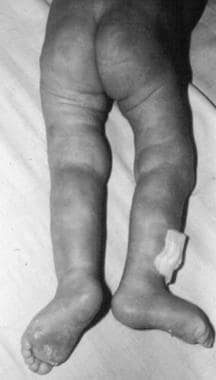 Lesion of Weber-Christian disease: tender, erythematous, nodular lesions located over the limbs with cutaneous atrophy.
The nodules are usually symmetric and measure approximately 1-2 cm; however, nodules may be much larger. The lesions commonly occur on the thighs and lower legs, and may also involve the arms, trunk, and face.
Individual nodules resolve over a 2-week period, leaving an atrophic depressed scar.
Occasionally, the epidermis overlying the nodules breaks down, and the lesion discharges a brown liquid oil (ie, liquefying panniculitis).
Hepatomegaly or splenomegaly may be present in Weber-Christian disease in individuals with visceral involvement.
Although orbital Weber-Christian disease is rare, ophthalmologists need to be aware that patients with Weber-Christian disease can develop severe ocular inflammation. [17, 18]
Complications
Weber-Christian disease may involve the lungs, heart, intestines, spleen, kidney, and adrenal glands. Death may occur in patients with inflammation involving these critical visceral organs.
In patients with primarily cutaneous manifestations, the clinical course may be characterized by exacerbations and remissions of the cutaneous lesions for several years before the disorder subsides.
What would you like to print?