Overview
Practice Essentials
According to the 2013 annual report of the American Association of Poison Control Centers' National Poison Data System, 1,950,455 single exposures to nonpharmaceuticals and pharmaceuticals were reported, of which 43,947 (2.3%) were exposures to plants. [1] Children younger than 6 years were responsible for 28,296 of those plant exposures. [1]
The plant species most frequently reported in human exposures were Spathiphyllum, Euphorbia pulcherrima, and Ilex.Philodendron and Caladium species were also listed among the most commonly reported plant exposures. Philodendron and Dieffenbachia species are commonly found in homes, offices, and waiting rooms. See the images below.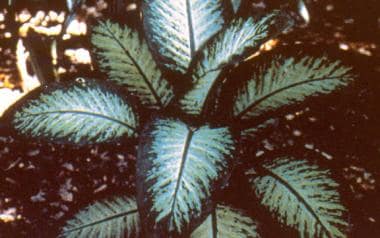 Dieffenbachia.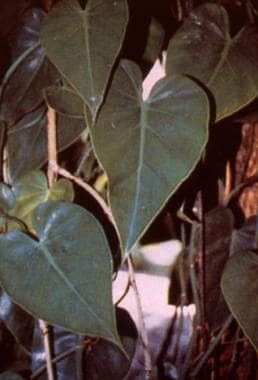 Philodendron.
Common names for these plants include the following:
Spathiphyllum – Spath, peace lily

Euphorbia pulcherrima– Poinsettia, Christmas flower, lobster plant

Philodendron– Cordaturn, horsehead, red emerald, red princess
Pathophysiology
Philodendron, Dieffenbachia, and Caladium contain calcium oxalate crystals packaged into bundles called raphides. However, the presence of calcium oxalate crystals alone is not enough to cause the toxicity seen with exposure to these plants. Although the exact mechanism of toxicity remains unclear, the presence of proteolytic enzymes, in addition to specialized cells that forcibly expel the raphides, seems to be necessary to inflict injury. See the images below.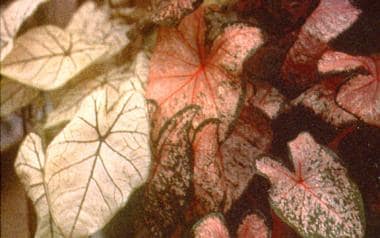 Caladium.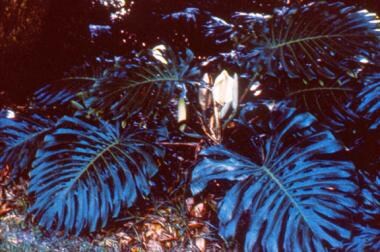 Split leaf philodendron.
Epidemiology
Frequency
United States
In 2013, the American Association of Poison Control Centers reported 5248 single exposures to plants containing oxalates. Children younger than 6 years accounted for 3892 of those exposures. [1]
International
The Poisons Information Centre Erfurt in Germany conducted a study of all reported human plan exposures from 2001-2010. The study revealed that severe symptoms occurred more frequently in adults as a result of intentional plant exposure or the mistaken eating of poisonous plants. The higher involvement of children still resulted in mild symptoms. [2]
Mortality/Morbidity
Patients with history of oral exposure (chewing and/or swallowing) have been reported to have severe swelling, drooling, dysphagia, and respiratory compromise, but this is not common. In a large retrospective study of 188 patients with plant oxalate exposure, all cases were determined to be minor and all resolved with minor or no treatment. Patients can also experience dermal and ocular exposure, resulting in contact dermatitis or keratoconjunctivitis. Symptoms that result from these routes of exposure also appear to resolve with supportive care. The serious complication of aortoesophageal fistula following ingestion of a dieffenbachia leaf in a girl aged 12.5 years has been described in a single 2005 case report. [3] The girl recovered following surgical intervention.
What would you like to print?