Overview
Practice Essentials
Although castor and jequirity beans are an uncommon cause of poisoning, they remain a concern because their toxins are among the most lethal naturally occurring toxins known today. Symptoms include delayed gastroenteritis, which may be severe and hemorrhagic, followed by delirium, seizures, coma, and death.The beans most commonly are used for ornamental purposes, such as prayer or rosary beads, or in musical shakers (maracas).
The castor bean plant (Ricinus communis) is found primarily in Asia and Africa, but the plant has taken root in all temperate and subtropical regions around the world. See the image below.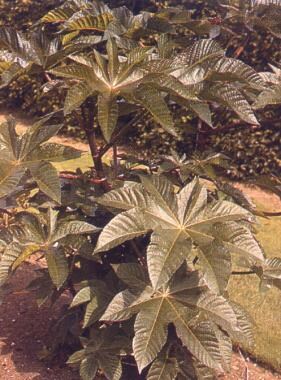 Castor bush.
In fact, the castor bean plant grows in the southwest United States, mainly along streams and riverbeds. Castor beans are oblong and brown in color with speckled dark brown spot. See the image below.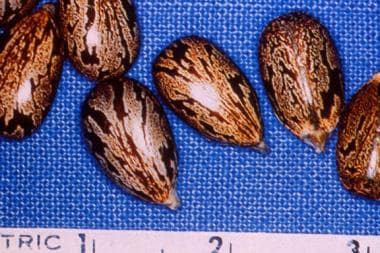 Castor beans.
Jequirity bean plant (Abrus precatorius) is primarily found in southeast Asia, but has spread to subtropical regions. See the image below.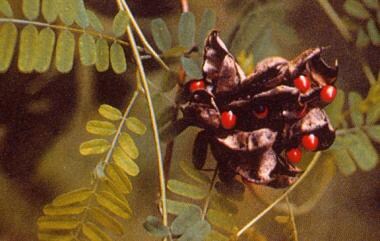 Jequirity bush.
The jequirity bean has a shiny appearance and is mainly red in color with a black spot. See the image below.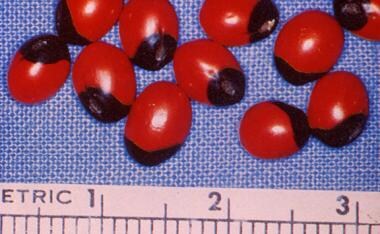 Jequirity beans.
For centuries, ricin and abrin, the toxin contained in the seeds of the castor and jequirity beans, respectively, have been used for homicidal purposes. The ease of production of ricin makes it very attractive as an agent that could be used by a terrorist or other criminal. The Centers for Disease Control and Prevention (CDC) categorizes ricin as a category B agent because it is moderately easy to disseminate while causing moderate-to-high morbidity in humans.
During the 1980s, the Iraqi government made weapon-grade ricin, and it was tested on animals and in artillery shells. In 2003, ricin was found in US Senator Bill Frist's office, and, in January of that same year, Arabs connected to Al-Qaeda were arrested in a London apartment while trying to manufacture ricin. [1] In February 2008, a man was poisoned in a hotel room in Las Vegas, Nevada. Because of the ongoing threat of weapons of mass destruction (WMD) in the United States, physicians must become familiar with the diagnosis and treatment of poisonings due to substances such as ricin.
Pathophysiology
These beans contain potent toxalbumins that inhibit protein synthesis and cause severe cytotoxic effects on multiple organ systems. Castor beans contain the toxalbumin ricin, and jequirity beans contain abrin. [2, 3, 4] The toxins are present in all parts of the plant but are most concentrated in the beans or seeds.
The beans are covered by a hard, relatively impervious outer shell that must be chewed or broken in some way in order for the toxalbumin to be released and, thus, present a toxic hazard. Castor beans are particularly antigenic and may cause severe cutaneous hypersensitivity and systemic reactions.
Etiology
Both castor and jequirity beans are commonly encountered as ornamental beans or seeds. Castor and jequirity beans are commonly used as prayer beads, bracelets, or necklaces. Castor and jequirity beans are also used as the seeds that rattle in maracas.
Epidemiology
Jequirity and castor bean ingestions are extremely uncommon. In 2017, the American Association of Poison Control Centers (AAPCC) recorded 275 cases of toxalbumin exposure. [8] Of those, 262 were single exposures, 105 of which were treated in a health care facility. No deaths were reported and only two patients were considered to have a major adverse reaction.
Prognosis
The prognosis for patients who develop symptoms is generally good with appropriate fluid management (and possibly with continuous whole-bowel irrigation). Studies are limited, and accurate statistics are not known.
Fatalities have occasionally been reported following ingestion of chewed castor beans. Chewing and swallowing as little as 1 bean may produce death in a child; however, swallowing an intact bean without chewing is unlikely to cause serious sequelae. Jequirity bean mortality is 5% for ingestion, and death may occur as long as 14 days after poisoning.
Complications of toxalbumin toxicity include severe multisystem organ damage and death. Shock, disseminated intravascular coagulation (DIC) or seizures may occur.
Patient Education
Instruct parents or guardians to childproof homes from all potentially toxic plants and plant-related items.
What would you like to print?