Workup
Laboratory Studies
After acute inhalation, hydrocarbons are not typically detected on routine drug screens, though specific inhalants can be detected on gas chromatography performed within 10 hours of exposure. With methylene chloride exposure (eg, occupational exposure from paint stripping), carboxyhemoglobin concentrations will be elevated. If the history suggests halogenated hydrocarbon exposure, liver function tests should be perofrmed to evaluate for signs of hepatic injury.
Arterial blood gas analysis is useful in documenting hypoxemia in severely affected patients. Hypercarbia may be observed in patients with respiratory depression and decreased gas exchange.
In the acute phase, serum chemistry results are expected to be within the normal ranges. An increased anion gap (see the Anion Gap calculator) may indicate co-ingestion of another toxin.
In chronic inhalant abuse, elevated creatine phosphokinase (CPK) concentrations with rhabdomyolysis can occasionally be seen. Laboratory studies generally reveal low bicarbonate and low potassium levels, with no anion gap. Hematuria and pyuria have also been reported.
Imaging Studies
In cases of acute exposure, no definite radiographic changes will be seen on chest x-ray, head computed tomography (CT), or brain magnetic resonance imaging (MRI). With aspiration, however, hydrocarbon pneumonitis may ensue, with chest x-ray findings developing over the course of hours (see the image below). Such findings may include bilateral interstitial infiltrates, usually in the middle and lower lobes, air bronchograms, pneumatocele, atelectasis, and pleural effusions. These abnormalities can persist for months.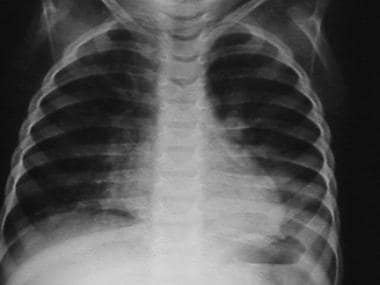 Hydrocarbon pneumonitis.
Nonfatal cases of pneumonitis typically resolve within 1 week. However, cases resulting from mineral or lamp oil ingestion may require 5-6 weeks for resolution. Repeat chest films should be obtained if any acute change in a patient's respiratory status occurs, because a pneumothorax and pneumomediastinum may develop. If discharge is being considered for an asymptomatic patient, a chest radiograph should be obtained 6 hours after the ingestion to document the negative findings.
On brain MRI, abnormalities suggested to be related to cumulative inhalant exposure most commonly include white matter changes and subcortical abnormalities in the thalamus, basal ganglia, pons, and cerebellum. These abnormalities are possibly the result of axonal damage and gliosis, although the mechanism is not clearly defined. These findings tend to start in the periventricular region, then extend into the subcortical white matter.
Other findings on brain scans in chronic inhalant abusers include the following [10] :
Cerebral and cerebellar atrophy

Atrophic dilatation of the ventricles

Widening of the cerebral/cerebellar sulci

Hypointensity of the thalami

Hypointensity of the red nuclei and substantia nigra

Hyperintensity of the dentate
Other Tests
Bedside pulse oximetry is useful in the emergency department because hypoxia is a direct result of hydrocarbon aspiration.
An electrocardiogram (ECG) should be obtained in all patients thought to have exposure to hydrocarbons. ECG changes may include the following:
Atrioventricular (AV) blockade

Atrial fibrillation

Premature ventricular contractions

Supraventricular tachycardia

QT interval prolongation

ST segment elevation

Sinus bradycardia

Ventricular fibrillation
What would you like to print?