Overview
Practice Essentials
Intestinal failure in infants and children is a devastating condition. Total parenteral nutrition (TPN) is the treatment of choice for patients with intestinal failure. Advancements in neonatal care, nutritional support, and surgical techniques have improved the survival of pediatric patients with intestinal failure. However, intestinal transplantation remains a treatment option for this condition.
TPN-related complications recognized as indications for intestinal transplantation include the following [1] :
Impending or overt liver failure related to TPN (parenteral nutrition–associated liver disease [PNALD)

Impending loss of vascular access for TPN administration

Multiple episodes of catheter-related sepsis

A single episode of life-threatening catheter-related sepsis

Frequent episodes of significant dehydration despite supplemental fluid administration
Most recipients of intestinal transplants are free from TPN and enjoy an excellent quality of life. Intestinal transplantation has matured into a life-saving and cost-effective therapy for patients with intestinal failure. [2] Rejection and infection are still the 2 most perplexing problems surrounding intestinal and multivisceral transplantation. Earlier patient referral, the development of new immunosuppressive agents, and the discovery of a serum marker for graft rejection are the keys to continued improvements in graft and patient survival rates.
Intestinal and multivisceral transplantation provides an alternative for patients who have life-threatening complications of TPN. Improvements in surgical technique, the monitoring and diagnosis of rejection, and cytomegalovirus (CMV) prophylaxis and the development of improved immunosuppression have paved the way for significant improvements in patient and graft survival rates.
This article reviews the current status of intestinal and multivisceral transplantation, with emphasis on the authors' experience at the University of Miami.
Background
Carrel performed the first experimental intestinal transplantation in 1902. [3] Half a century later, in 1959, Lillehei demonstrated successful intestinal autotransplantation after cold preservation. [4] Experimental multivisceral transplantation (termed polysplanchnic transplantation) was pioneered by Starzl in 1960. [5] The earliest attempts at clinical intestinal transplantation were unsuccessful because of what appeared to be insurmountable barriers: graft rejection and infectious complications. [6, 7]
The first successful intestinal transplantations occurred in the late 1980s. Grant reported successful intestinal transplantation in pigs with cyclosporine use in 1988. [8] Starzl reported the first clinical successful multivisceral transplantation in 1987. [9] In 1988, Goulet and Deltz independently reported the first successful isolated intestine transplantations. [8] Grant reported the first combined liver and intestine transplantation under cyclosporine-based immunosuppression in 1990. [10] Starzl, Todo, and Tzakis pioneered intestinal transplantation with tacrolimus in the early 1990s. [9, 11, 12, 13, 14] As a result, the number of centers performing the procedures increased. [15, 16]
Since 1998, the authors have instituted the following changes in the management of intestinal transplant patients, which have contributed to improvement in the survival rate:
Surgical technique - Systemic drainage to the inferior vena cava has been applied, with satisfactory results; metabolic effect and survival rates are the same as for portal drainage.

CMV prophylaxis - Transplants from CMV-positive donors are used safely with intense CMV prophylaxis using CMV immune globulin (CytoGam)

Rejection monitoring with zoom video endoscopy (ZVE) - Monitoring with ZVE prevents the delay in the diagnosis of rejection and overimmunosuppression

Use of new immunosuppressive agents - Daclizumab, rapamycin, and alemtuzumab
A study of enterocytes in five male patients who received intestinal transplants from a female donor demonstrated the presence of host-derived (male) enterocytes in the intestinal allografts (female). The presence of male crypt cells and male enterocytes in the intestinal grafts suggested that they probably originated from circulating stem cells and that the differentiation process might have progressed from crypt cells to mature enterocytes. Generating enterocytes from a patient's own stem cells may be possible; this might assist in developing novel strategies to increase intestinal absorptive surface and repair and to engineer neointestines for patients with short bowel syndrome. [17]
The intestinal and multivisceral transplantation program at the University of Miami was started in 1994. Through May 2012, 349 intestinal transplantations have been performed, including 309 primary intestinal transplantations (80 isolated intestine, 36 combined liver-intestine, 28 modified multivisceral, and 165 multivisceral transplantations) and 40 retransplantations (16 isolated intestine, 2 combined liver-intestine, 5 modified multivisceral and 17 multivisceral transplantations).
Relevant Anatomy
For isolated intestinal transplantation in patients with normal anatomy, the superior mesenteric artery (SMA) of the donor is procured with the aortic cuff. The portal vein is cut above the confluence of the superior mesenteric and splenic vein. If a right replaced hepatic artery from the SMA is present, the SMA is cut distal to the takeoff of the replaced hepatic artery. The SMA of the donor is anastomosed to the recipient SMA or the abdominal aorta. The portal vein of the donor is anastomosed to the portal vein or the inferior vena cava of the recipient.
For liver and intestinal or multivisceral transplantation, the celiac trunk and SMA are procured with the abdominal aorta and thoracic aorta. The inferior vena cava is procured from the iliac vein bifurcation to above the diaphragm. The anastomosis is performed between the donor abdominal aorta and the recipient abdominal aorta in an end-to-side fashion.
Pathophysiology
Short bowel syndrome is often the result of extensive intestinal resection for multiple pathophysiologies, such as volvulus, trauma, tumor, and thrombosis. An inadequate absorptive surface results in an inadequate energy intake and malabsorption of vitamin B12 and other vitamins. Calcium and magnesium deficiencies can lead to neurologic complications such as encephalopathy, tetany, and convulsions. Intestinal failure with hyperalimentation causes liver failure. Patient on long-term hyperalimentation usually have complications, including line sepsis, thrombosed veins, and liver dysfunction. [18]
Etiology
Most often, intestinal failure occurs secondary to surgical resection, leading to short bowel syndrome, although functional disorders in motility, mucosal defects, obstruction, and fistulae may also result in intestinal failure. [19] Additional causes of intestinal failure include the following:
Mesenteric thrombosis

Volvulus

Trauma

Pseudoobstruction

Microvillus inclusion disease

Massive resection of the intestine
At the University of Miami, all patients with intestinal failure that necessitated transplantation had TPN-related complications, and most had concurrent TPN-induced liver failure. The causes of intestinal failure and the number of patients affected are as follows:
Gastroschisis - 42

Necrotizing enterocolitis - 39

Mesenteric thrombosis - 35

Volvulus - 30

Hirschsprung disease - 19

Intestinal atresia - 19

Trauma - 18

Pseudo-obstruction - 17

Desmoid tumor - 16

Crohn disease - 13

Megacystic microcolon -12

Microvillus inclusion - 10

Others - 39

Retransplant - 40
Epidemiology
No database reports the exact incidence of short bowel syndrome. However, the incidence is estimated to be 3-5 patients per 100,000 births per year. [20, 21]
Prognosis
The International Registry for Intestinal Transplantation reports that graft and patient survival rates have improved, with a 69% 1-year patient survival rate and a 55% graft survival rate since 1995. [22] Trevizol et al studied the procedure over a 5-year period and reported a 1-year patient survival rate of 80%, but survival decreases after the first year to less than 70%. [23]
At the University of Miami, the 1-year survival rate of patients who received transplantations in 1994 was 75%, and the graft survival rate was 68%. Since 1998, the 1-year patient survival rate has been 84%, and the graft survival rate, 72% (see following image). In 1998, we introduced the ZVE and biopsy protocol and daclizumab induction therapy for all intestinal and multivisceral recipients. The authors attribute the improvement in patient and graft survival rates since 1998 to these two modifications in the program. Daclizumab was withdrawn from the United States market in 2009 because of diminished use and emergence of other effective therapies.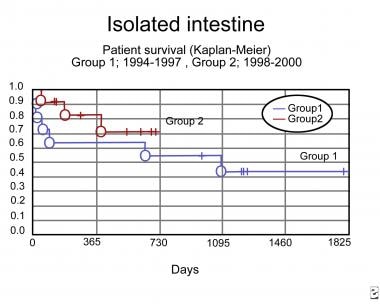 Patient survival of isolated intestinal transplantation.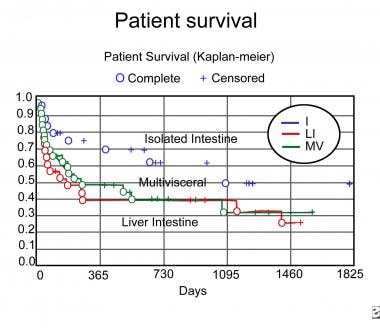 Patient survival of 3 types of intestinal transplantation.
Of 110 intestinal transplants performed on 101 children from 1994 to 2014, Necker-Enfants malades Hospital in Paris reported graft survival at 5 and 10 years was 44% and 31% for liver-containing graft and 57% and 44% for small bowel transplants. Among the 55 currently living patients, 21 had a liver-containing graft, 19 a small bowel transplants (17 after induction), and 15 were on parenteral nutrition. Late graft loss occurred in 13 patients, and 7 of 10 retransplanted patients died. The main causes of death and graft loss were sepsis and rejection. [24]
The authors are certain that earlier referral of the patients for intestinal transplantation yields improved survival results. The authors' results do show that isolated transplantation is preferable to combined liver-intestinal or multivisceral transplantation from a survival standpoint. Posttransplant prognosis is also improved when transplantation is performed prior to the onset of liver failure and prior to the exhaustion of all routes of vascular access.
Causes of death included the following:
Posttransplantation lymphoproliferative disorder

Graft versus host disease [25]

Necrotizing enterocolitis
What would you like to print?