Workup
Laboratory Studies
It is important to obtain a serum alpha-fetoprotein (AFP) level before treating a testicular mass. AFP levels are elevated in 80% of patients with yolk-sac carcinomas and serve as a tumor marker. The half-life of AFP is about 5 days, and levels should return to normal (< 20 ng/mL) within 1 month after complete removal of the tumor.
AFP levels are usually elevated in neonates (~50,000 ng/mL) and drop to 10,000 ng/mL by age 2 weeks and to 300 ng/mL by age 2 months; therefore, age-specific values should be used. Persistently elevated AFP levels after surgery suggest tumor metastases or recurrence. Liver dysfunction can also cause false-positive elevations of AFP levels.
Serum testosterone levels may be elevated in Leydig-cell tumors.
Gonadoblastoma may elevate levels of beta human chorionic gonadotropin (β-HCG).
Imaging Studies
Ultrasonography (US) is helpful in evaluating the testicle and in distinguishing an extratesticular mass from an intratesticular mass (see the images below). [23]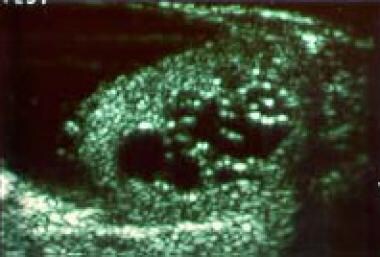 Ultrasonogram revealing cystic dysplasia of testicle.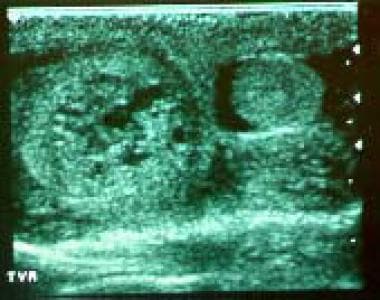 Ultrasonogram in infant revealing heterogeneous intratesticular mass that proved to be juvenile granulosa-cell tumor.
Chest radiography should be performed; 20% of yolk-sac tumors occur with metastases to the lung.
Patients with rhabdomyosarcomas require chest radiography, abdominopelvic computed tomography (CT), bone scanning, and bone-marrow aspiration.
Procedures
The type of testicular tumor is diagnosed after inguinal orchiectomy or after an inguinal approach to testicular-sparing surgery is used.
When preoperative AFP levels are normal and the level of suspicion for a benign lesion (eg, cystic dysplasia, teratoma) is high, the tumor is excised from the testis via an inguinal approach. Intraoperative histologic confirmation of a benign lesion by frozen section permits testicular-sparing surgery.
Histologic Findings
Histologic evaluation of the yolk-sac tumor demonstrates eosinophilic periodic acid-Schiff (PAS)-positive inclusions in the cytoplasm of clear cells that consist of AFP and Schiller-Duval bodies.
Teratomas and teratocarcinomas contain elements derived from more than one of the three germ tissues (ie, endoderm, mesoderm, and ectoderm). These tumors are often cystic, and tissues such as skin, hair, bone, and even teeth may be present. Although they contain areas of poorly differentiated cells with a malignant appearance, teratomas are consistently benign in children younger than 2 years.
About 90% of paratesticular rhabdomyosarcomas demonstrate a favorable embryonal pattern on histology.
Staging
The intergroup staging system for testicular germ cell tumors is as follows:
Stage I - Limited to the testis and completely resected

[24]

(85% of children < 4 years present with stage I disease, compared with only 35% of adults)

Stage II - Removed by transscrotal orchiectomy, involvement of scrotum or spermatic cord, persistently elevated markers

Stage III - Retroperitoneal lymph node involvement (≤ 2 cm, no visceral or extra-abdominal involvement)

Stage IV - Distant metastases
What would you like to print?