Presentation
History
Evaluation of a newborn with ambiguous genitalia requires a team effort. The most common difference (disorder) of sex development (DSD), congenital adrenal hyperplasia (CAH), results in virilization of a 46,XX female and thus is classified under the heading of 46,XX DSD. The clinician's challenge is to distinguish CAH from other, less common causes of ambiguous genitalia. A detailed family history is essential; the following considerations should be kept in mind:
A family history of genital ambiguity, infertility, or unexpected changes at puberty may suggest a genetically transmitted trait

Recessive traits tend to occur in siblings, whereas X-linked abnormalities tend to appear in males who are scattered sporadically across the family history

A history of early death of infants in a family may suggest a previously missed adrenogenital deficiency

Maternal drug ingestion is important, particularly during the first trimester, when virilization may be produced exogenously in a gonadal female

Although extremely rare, a history of maternal virilization may suggest an androgen-producing maternal tumor (arrhenoblastoma)
Physical Examination
Certain physical characteristics may suggest the directions toward which a successful investigation might be pursued.
Examination of the external genitalia should include the following:
Note the size and degree of differentiation of the phallus, since variations may represent clitoromegaly or hypospadias

Note the position of the urethral meatus

Labioscrotal folds may be separated or folds may be fused at the midline, giving an appearance of a scrotum (see the image below)

Labioscrotal folds with increased pigmentation suggest the possibility of increased corticotropin levels as part of adrenogenital syndrome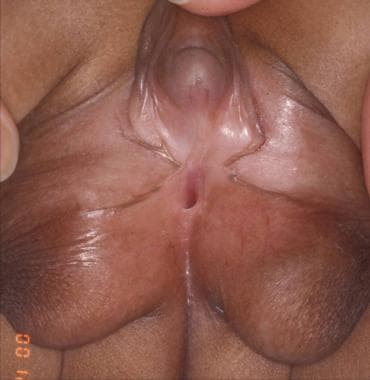 Patient with 46,XX disorder of sex development (DSD). Note masculinized appearance of genitalia, with enlarged phallus and scrotal appearance of labia.
Gonadal examination should include the following:
Documentation of palpable gonads is important; although ovotestes have been reported to descend completely into the bottom of labioscrotal folds, in most patients, only testicular material descends fully

If examination reveals palpable inguinal gonads, diagnoses of a gonadal female,

Turner syndrome

, and pure gonadal dysgenesis can be eliminated

Impalpable gonads, even in an apparently fully virilized infant, should raise the possibility of a severely virilized 46,XX DSD patient with CAH
Rectal examination should include the following:
Rectal examination may reveal the cervix and uterus, confirming internal müllerian structures

The uterus is relatively enlarged in a newborn because of the effects of maternal estrogen, permitting easy identification
What would you like to print?