Presentation
History
Ureteral duplication and ectopic and nonectopic ureterocele tend to present early in life, even prenatally.
Antenatal presentation
Antenatal maternal ultrasonography (US) has led to earlier and increased detection of ureteral abnormalities. Hydronephrosis that is identified antenatally warrants postnatal follow-up imaging.
Neonatal presentation
Urinary tract infection (UTI) in the first few months of life remains the most common presentation. An infected obstructed system may lead to life-threatening urosepsis. Infants may also exhibit failure to thrive or nonspecific gastrointestinal (GI) symptoms.
Older childhood presentation
UTI is a common presentation at any age. Ureteral duplication and ectopic ureters can be associated with both reflux and obstruction, predisposing to UTI. Hematuria or pain in the abdomen or flank may also occur.
Ureteral ectopia in females can present as continuous drip incontinence in cases in which the ureteral orifice is located in the vagina, septum, or the urethra, below the sphincter mechanism. Persistently damp underwear (day and night) is a typical history finding.
Girls can present with prolapse of the ureterocele through the urethra, which may lead to bladder outlet obstruction or incontinence. This is the most common cause of urethral obstruction in girls. [1] Ureteroceles may be seen upon careful physical examination of the genitalia.
Ureteroceles in boys may prolapse and occasionally obstruct the urethra, but this is very rare.
Physical Examination
A hydronephrotic kidney is the most common palpable abdominal mass in the newborn and suggests an obstructed kidney, possibly resulting from an ectopic ureter or ureterocele.
Occasionally, urine that drips from the meatus of an ectopic ureter at the urethrovaginal septum can be detected. Close inspection of the genitalia in a female with urinary retention may reveal a prolapsing ureterocele. (See the images below.)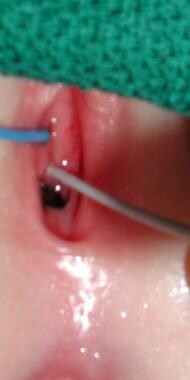 Ectopic ureter to urethrovaginal septum. This patient presented with continuous drip incontinence. The blue catheter is positioned in the urethra. The gray catheter is positioned in the orifice of the ectopic ureter.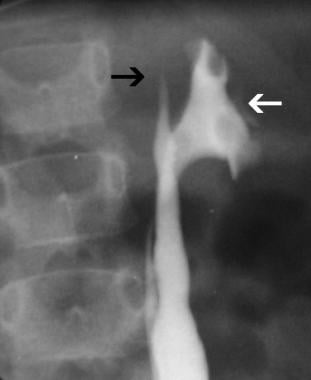 Duplicated ectopic ureter to the urethrovaginal septum. Retrograde injection of contrast into the orthotopic lower pole (white arrow) ureteral orifice and ectopic upper pole (black arrow) orifice simultaneously opacifies both systems.
What would you like to print?