Presentation
History
Physical Examination
Physical examination is the most important tool in the diagnostic evaluation of cryptorchidism. The patient must be examined in a warm, relaxed environment. Closely observing the scrotum before manipulation is important. The frog-leg or catcher position may be used to facilitate palpation of the testis.
Determining if the testis is palpable is essential. If the testis is palpable, it is vital to ascertain whether it can be retracted. The retractile testis should stay in the dependent portion of the scrotum after manipulation.
The best method of evaluating for an undescended testis is to start palpating at level of the inguinal canal and perform a milking motion down toward the scrotum. The examiner should look for hemiscrotal asymmetry and for contralateral testicular hypertrophy; both are partial indicators of an absent testis.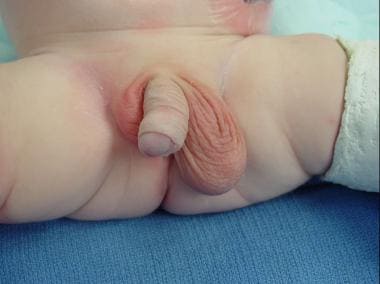 Hypoplastic right hemiscrotum in a patient with an undescended right testis.
Examination of potential ectopic sites (eg, penile, femoral, and perineal areas) is important if the testicle cannot be felt in the inguinal area. Patients with hypospadias and cryptorchidism have a higher incidence of differences (disorders) of sex development (DSDs), and a workup should be considered. If any doubt remains after the initial examination, reevaluation of the patient is mandatory before surgical management is recommended.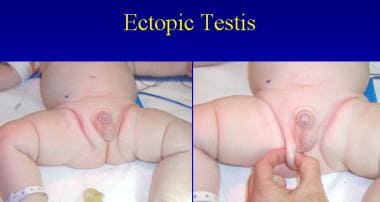 Ectopic testis.
No staging system is reported; the physical finding of a palpable testis versus a nonpalpable testis is the most reliable and easy way of grouping cryptorchidism cases.
What would you like to print?