Treatment
Approach Considerations
Vascular anomalies are quite diverse in nature and encompass many types of lesions; accordingly, indications for treatment are nuanced and variable. In general, the decision to intervene should take into consideration the type of lesion, the associated symptoms, and the desires of the patient and family.
Most hemangiomas are small tumors that eventually undergo involution. However, treatment may be warranted if the tumor is large, grows rapidly, is complicated by severe ulceration, is in a threatening location, or might otherwise cause complications. Most are currently managed with propranolol as the first line of treatment (see Medical Therapy).
Indications for treatment of venous malformations include appearance, impairment of function, and protracted pain.
Capillary malformations are largely treated for cosmetic reasons; however, excision may be warranted in patients who develop fibronodular hypertrophy or who have extensive facial involvement.
Treatment of lymphatic malformations should be geared toward preventing infection and bleeding, correcting cosmetic deformity, and improving the function of affected areas. [49]
Quiescent arteriovenous malformations (AVMs) may be managed expectantly; however, pain, bleeding, ulceration, and extensive enlargement are all indications for treatment. Symptomatic lesions that are not amenable to surgical treatment may be considered for palliative embolization therapy.
Treatment is indicated to mitigate the sequelae of combined malformations, including hypertrophy, lymphatic weeping, pain, and loss of functionality.
Medical Therapy
Hemangiomas
Since 2008 [50] and after the report of a consensus protocol in 2013, [51] propranolol has been used as first-line treatment of hemangiomas, with caution exercised in infants with hemodynamic disorders, care taken to prevent hypoglycemia, and attention paid to confirming that the benefits of treatment outweigh the risks in patients with hemangiomas associated with PHACE (posterior fossa, hemangioma, arterial, cardiac, eyes) syndrome.
The starting dosage for propranolol is 0.5 to 1 mg/kg/day; if tolerated (with heart rate and blood pressure checked after one to three doses), it can be increased to 2 mg/kg/day. [52]
Treatment of hemangiomas with corticosteroids and interferon alfa has fallen out of favor because of the common adverse effects related to their use (cushingoid syndrome for the former, neuropathy for the latter). Lauromacrogol has been used in sclerotherapy for refractory hemangioma. [53]
Venous malformations
Initial treatment of venous malformations consists of elastic compression aids to reduce swelling and pain. Daily aspirin may also be administered to prevent thrombotic complications. Sclerotherapy, most often with ethanol, has been a mainstay of treatment. [54] Lauromacrogol has also been used as a sclerosing agent for vascular malformation. [53]
Sclerotherapy should be performed with general anesthesia, guided by ultrasonography (US), fluoroscopy, or both. With repeated therapy, the success rate for improving function and reducing symptoms can reach 84%. [55]
In 2014, the International Union of Phlebology issued an updated guideline expressing a current consensus on the diagnosis and management of venous malformations. [56]
Capillary malformations
Cosmetic camouflage and laser photocoagulation are the current first-line treatments for capillary malformations. [6] Flashlamp pulsed dye lasers are most often used, though the results of such therapy are mixed. Multiple treatments are usually required, and nearly half of all lesions will darken within 5 years of treatment. [57]
Lymphatic malformations
Macrocytic lesions may be effectively treated with sclerotherapy. Both bleomycin and OK-432 (attenuated group A Streptococcus pyogenes) were effective as intralesional sclerotic agents. [58, 59] A 2008 series by Burrows et al evaluated the use of doxycycline as an effective sclerosing agent for lymphatic malformations. [60]
Carbon dioxide, argon, and yttrium-aluminum-garnet (YAG) laser therapy can also be used to treat mucosal lesions, though malformations treated with this therapy often recur, requiring repeat treatment.
Newer therapies
More accurate diagnosis, improved treatment guidance, and various emerging therapies have been made possible by refinements in the classification and terminology of vascular anomalies. [23]
Advances in the discovery and understanding of the pathways involved in the pathophysiology of vascular malformations have led to the development of several targeted molecular inhibitors of these pathways. [23]
The newer agent that has been the subject of the most study to date is sirolimus (rapamycin [61] ; a mammalian target of rapamycin [mTOR] inhibitor), which is used for venous, lymphatic, and complex malformations. Another emerging agent is alpelisib (a PIK3CA inhibitor), [23] which is used for PIK3CA-mutated vascular malformations. [61]
Over the past few decades, sclerotherapy has become increasingly popular as the initial management of lymphatic malformations, by virtue of its safety, efficacy, and cost-effectiveness when compared with surgery; this development highlights the importance of interventional radiology within the multidisciplinary management of patients with these malformations. [62]
The efficacy and safety of sclerotherapy depend directly on the angioarchitecture, the sclerosing agent used, and the dwell time of the sclerosant within the malformation. [63]
The most commonly used sclerosing agents can be classified according to their mechanism of action [63] , as follows:
Direct induction of endothelial injury and thrombosis of the malformation - Ethanol, ethanolamine, and pingyangmycin

Induction of a nonspecific inflammatory reaction within the malformation (less potent) - Sodium tetradecyl sulfate and bleomycin
Surgical Therapy
Hemangiomas
Surgical resection may be appropriate for lesions that are refractory to medical management and that continue to present problems (eg, ulceration). Resection may be performed at any of the three stages of the life cycle. As a general rule, resection should be deferred until the involuted phase (late childhood), when the lesion has matured and the anesthetic risk to the child is decreased. However, specific indications have been suggested for resection at all phases, as summarized by Marler and Mulliken [6] :
Infancy (proliferative phase) - Indications for resection include obstruction (visual or subglottic), deformity (eg, periorbital distortion), bleeding, ulceration, involvement of the scalp (to prevent alopecia of the effected region), and anticipation of a scar caused naturally by the lesion that would be more marked than that caused by surgical intervention

Early childhood (involuting phase) - Large protuberant lesions are resected in this phase, as children of this age generally become aware of physical appearance; excision may be performed at this point if resection is considered inevitable, the resultant scar is similar to that achieved by waiting to excise in the involuted phase, and the scar may be easily hidden

Late childhood (involuted phase) - Indications for resection in this phase include damaged skin, abnormal contour, and distortion of skin or surrounding structures
Early tracheostomy may be warranted for lesions that threaten the airway.
Because no two lesions or patients are alike, optimal timing and technique of surgical excision should be determined on a case-by-case basis
Venous malformations
Sclerotherapy is the primary interventional treatment for venous malformations; however, surgical excision may be offered for selected lesions. Small localized lesions are the best candidates for surgical intervention. In general, sclerotherapy should be used to shrink lesions prior to surgical excision.
Capillary malformations
Small fibrovascular lesions can easily be excised in most locations. More extensive excision and grafting of select capillary malformations may also be performed. Facial lesions with concomitant disfigurement may require excision with full- or split-thickness grafts accompanied by contour resection and correction of maxillofacial distortion. [64, 65]
Lymphatic malformations
Surgical resection is the mainstay of treatment for lymphatic malformations. In general, resection should be deferred until late infancy or early childhood to minimize anesthetic risk and to allow easier dissection of neurovascular structures often associated with complex lesions.
Often, lymphatic malformations encompass vital structures, precluding complete excision. Staged approaches are often used. The approach to resection varies with lesion location. Generally, total excision of the lesion is attempted, with careful identification and preservation of involved major nerves (eg, preservation of the brachial plexus when an axillary lesion is excised).
Resections tend to be involved, and wound complications (eg, infection, drainage, swelling, and seroma formation) are common.
Arteriovenous malformations
Treatment of AVMs consists of a combination of embolization, sclerotherapy, and surgical resection. Angiography is required for intervention, in that it delineates the extent of the lesion and clearly outlines the feeding and draining vessels. Surgical ligation of feeding vessels should not be performed, because doing so only induces recruitment of new vessels into the lesion. Such ligation not only fails to solve the problem but also—even worse—prevents further endovascular access, thereby precluding therapeutic interventions. [6]
Embolization may be performed with coils, particles, or glue via an arterial approach. Sclerotherapy may be delivered in the nidus of the lesion with concomitant occlusion of feeding and draining vessels. Various sclerosing agents (eg, absolute ethanol and N-butyl cyanoacrylate [NBCA]) have been described. [66] Combinations of embolization and sclerotherapy may be used to treat lesions that may not be amenable to surgical resection; however, these measures provide only temporary improvement, in that new vessels are readily recruited into the lesion.
All AVMs are high-flow lesions. Thus, it is essential to ensure that the sclerosant does not escape the lesion through the draining vessels. This can give rise to one of the most feared complications, embolization of nontarget organs, which can range from asymptomatic and clinically irrelevant to problematic (eg, large cutaneous ulcers) to or disastrous (eg, blindness, organ failure, or even death due to massive pulmonary absorption). The author has had to place a balloon catheter in the drainage jugular vein while injecting NBCA into a high-flow malformation of the mandible on a 12-year-old boy in order to keep the plastification agent from leaking into the heart and the systemic circulation.
If a lesion is deemed appropriate for surgical excision, preoperative embolization is usually recommended to aid in resection. Select lesions (eg, small malformations on the extremities) may be excised without preoperative embolization. Operative intervention is indicated to facilitate complete excision and to minimize operative blood loss and recurrence. Staged procedures are usually not performed, though for extensive, complex lesions, staged endovascular treatment (sclerosis, embolization, or plastification) followed by single or staged surgical resection procedures represents a therapeutic alternative. (See the images below.)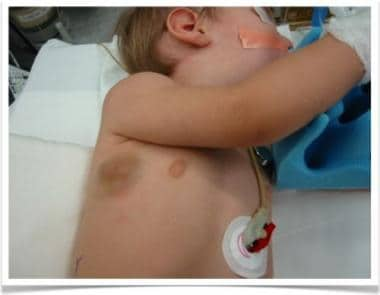 Preoperative image of 2-year-old boy who underwent plastification of right-thoracic-wall arteriovenous malformation.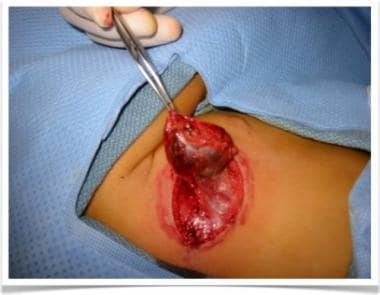 Surgical removal of AVM of same child described in previous image. Note how malformation can be resected en bloc without bleeding due to previous plastification.
Excision should include the nidus of the lesion, as well as any involved skin or deeper tissues. Wide excision is often necessary, with the extent of the resection based on delineation of the lesion by preoperative imaging, bleeding patterns at the resection margin (ie, consistent with normal dermal vasculature or extensive bleeding indicative of the malformation), and frozen sections of the resection margin. Large excisions may necessitate grafting or tissue transfer for adequate wound closure. Fluorescence-guided surgery with indocyanine green and infrared lamps has been advocated, with varying results.
Deep intracranial and complex craniofacial AVMs present a unique therapeutic challenge, in that surgical excision is often impossible. Embolization is the usual treatment for such lesions. Radiotherapy has been also successfully employed to treat such intracranial lesions [67] ; the International Radiosurgery Association has published guidelines for its use in this setting. [68]
In 2013, the International Union of Angiology published a consensus document on the management of AVMs. [69]
Combined malformations
Proper management of combined and complex malformations requries a high level of expertise in their treatment. Different segments of the malformation can be managed with distinct therapeutic approaches. In a given patient, the multidisciplinary team could opt for embolization of the arterial component of the lesion; sclerotherapy or surgical resection for the venous or lymphatic component; laser therapy for the capillary cutaneous component; and staged surgical resection, mTOR inhibitors, or both for limb overgrowth. Treatment should be specifically tailored for each particular patient.
Permanent or temporary growth arrest of the noninvolved lower limb has been used in order to avoid limb-length discrepancy, thereby aiding the gait and helping to prevent limping.
Complications
Complications of therapy depend on the nature of the lesion and the type of intervention carried out.
Systemic corticosteroid therapy used to treat hemangiomas may produce the expected complications of such therapy (eg, gastric irritation, temporary growth retardation, and cushingoid appearance). Local intralesional administration may be complicated by damage to surrounding structures such as the eye. [70] As noted (see Medical Therapy), corticosteroids currently are less commonly used to treat hemangiomas than they once were.
In general, treatment of malformations with sclerotherapy may result in local complications, including nerve injury, cutaneous necrosis, blistering, and injury to surrounding structures. [71] (See the images below.)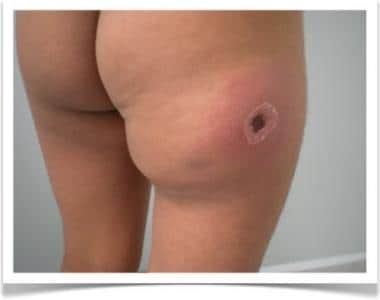 Clinical image of 9-year-old girl presenting with cutaneous ulcer on right buttock as complication after endovascular sclerotherapy for venous malformation. Sclerosis of nontarget organ.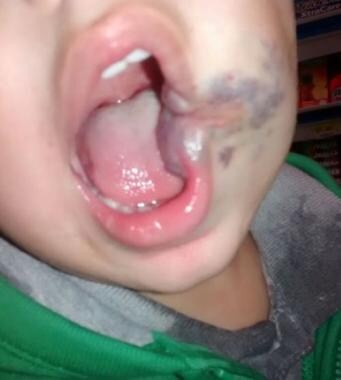 Clinical image of 3-year-old boy who underwent percutaneous sclerotherapy with absolute alcohol for left-cheek venous malformation. Patient had very severe reaction to sclerosing agent and developed cutaneous lesion that scarred and retracted over time.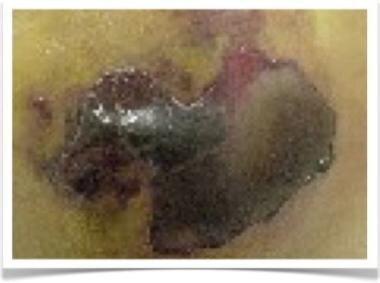 Patient who developed skin necrosis as a complication of sclerosis of a nontarget organ after endovascular injection of a sclerosing agent for a venous malformation.
Laser therapy or phototherapy often fails to resolve lesions permanently; recurrence rates are high.
Short-term complications of surgical excision may include bleeding and infection. Protracted wound problems may also occur, depending on the nature of the lesion. Edema, pain, seromas, and prolonged drainage may occur at resection sites. Functional loss (of limbs and hands) and need for repeat excisions (as with lymphatic malformations) may also be potential complications of surgical management.
Long-Term Monitoring
In general, vascular anomalies constitute a chronic and complex group of lesions that require long-term follow-up and care. Although no treatments can be said to be curative for all problematic lesions, most malformations can be treated to achieve mitigation of symptoms if the correct diagnosis is made early and the proper interventions implemented. Patients should be observed in multidisciplinary clinics, if appropriate, and consultation with a surgeon should be sought early.
What would you like to print?