Presentation
History and Physical Examination
Pediatric iatrogenic vascular trauma may present acutely or may manifest late after the original vascular procedure or trauma.
Usually, signs and symptoms of vascular injuries are immediately apparent. Patients with limb ischemia present with the classic signs of distal hypoperfusion or cold skin plus the "five Ps": pulselessness, pallor, paralysis, paresthesia, and pain. Pulses can be difficult to palpate in infants and small children. However, Doppler technology can be used to confirm flow and compare pressures with those in the contralateral uninvolved limb.
Signs may be transient or may progress quickly to gangrene. Vascular spasm in children is inversely proportional to the size and age of the patient. Simple spasm usually subsides spontaneously within 3 hours. However, lesions suggestive of vascular compromise should not be attributed to spasm. (See the images below.)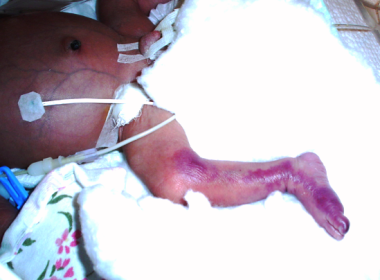 Newborn baby boy with right femoral artery lesion during venous cutdown. Artery was surgically repaired. He postoperatively developed severe vasospasm and partial thrombosis, managed with thrombolytics. He had adequate Doppler signal and eventually recovered.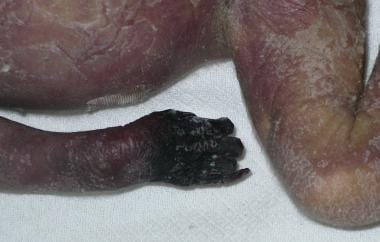 Right-hand gangrene and necrosis secondary to use of brachial artery catheter in very-low-birth-weight baby girl.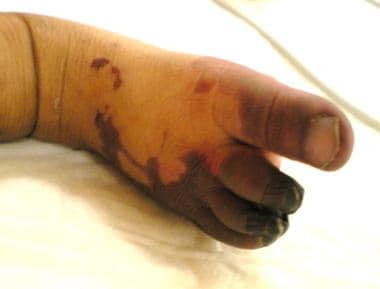 Distal right-foot ischemia with fingertip gangrene in newborn baby girl with central venous catheter in right femoral vein, which, after multiple cannulation attempts with accidental arterial catheter placement, developed thrombus that migrated distally and produced ischemia and necrosis.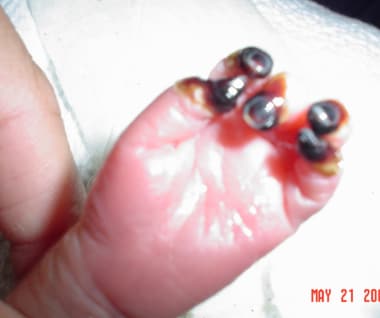 Left-hand fingertip necrosis due to arterial line in brachial artery.
Assessment of pulses after a procedure is crucial in the early recognition of vascular injury. [4] It is important to note, however, that the presence of pulses distal to the lesion does not completely rule out a vascular injury, because as many as 25% of patients may have distal pulses even in the presence of a vascular insult. If a change in vascular observation of the limb is identified after a procedure, the clinician should consider whether the poor perfusion state is due to arterial injury, vasospasm, or hypoperfusion from shock.
Measurement of the ankle-brachial index (ABI) can also be used to assess arterial perfusion. Whereas an ABI of 1 is considered normal in adults and older children, the normal value for the ABI in children younger than 2 years is 0.88. [2]
A delayed presentation is more likely in patients with certain vascular injuries, including arteriovenous fistulas (AVFs), mycotic aneurysms, pseudoaneurysms, renal vascular occlusion with renovascular hypertension, intermittent claudication, or growth retardation of the affected extremity. Signs and symptoms may be subtle. Particular attention must be paid to poor capillary refill, coolness, diminished pulses, bruits, thrills, blanching, bluish discoloration, lack of movement, and mottling.
Not all patients with thrombosis develop clinical symptoms. On occasion, the vessel is only partially blocked, and collateral blood flow is adequate. This occurs with thromboses associated with umbilical artery catheters. In a series of 4000 patients, only 1% of patients developed clinical symptoms of thrombosis. [11] Patients with acute aortic thrombosis secondary to umbilical artery catheters can present with hypertension or congestive heart failure.
What would you like to print?