Overview
Background
Lateral epicondylitis of the elbow involves pathologic alteration in the musculotendinous origins of the extensor carpi radialis brevis (ECRB) and longus (ECRL) tendons (see the image below). [1, 2, 3, 4] Although this condition is commonly known as tennis elbow, it may be caused by a variety of sports and occupational activities.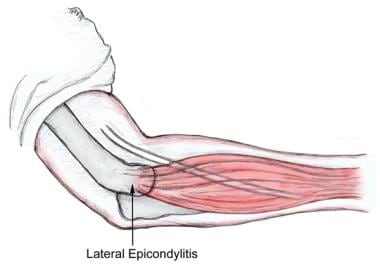 Lateral epicondyle.
The diagnosis of lateral epicondylitis is based upon a history of pain over the lateral epicondyle and the following findings on physical examination:
Local tenderness directly over the lateral epicondyle

[5]

Pain aggravated by resisted wrist extension and radial deviation

Decreased grip strength or pain aggravated by strong gripping

Normal elbow range of motion
Strain or tear of various portions of the extensor digitorum and ECRB muscles due to repetitive use results in chronic inflammation. [6]
The histopathology of the affected musculature reveals edema and fibroblast proliferation in the subtendinous space, tendinopathy with hypervascularity (particularly involving the ECRB tendon), and spur formation with a sharp longitudinal ridge on the lateral epicondyle.
Corticosteroids and other drugs often are injected in and around soft-tissue periarticular lesions to treat regional pain syndromes. In a randomized controlled trial, Dojode concluded that autologous blood injection is efficient as compared with corticosteroid injection and offers fewer side effects and a minimal recurrence rate. [7] Several studies suggested that injection of platelet-rich plasma (PRP) is effective in cases of recalcitrant lateral epicondylitis [8, 9, 10, 11] ; others have not found clear evidence of benefit for some of these agents. [12] A study by Kıvrak et al found that steroids are effective in the short term but that PRP and autologous blood are more effective in the long term. [13]
The principles and practice of inserting a needle into a joint cavity are very similar to those of inserting a needle into a periarticular lesion.
Indications
Indications for lateral epicondyle injection include the following:
Failure of conservative treatment

Speeding up recovery in high-performance athletes (though this is a controversial practice)
Contraindications
Joint or soft-tissue aspirations and injections have few absolute contraindications. The procedure should probably be avoided if the overlying skin or subcutaneous tissue is infected or if bacteremia is suspected. The presence of a significant bleeding disorder or diathesis or severe thrombocytopenia may also preclude joint aspiration. Aspiration of a joint with a prosthesis in it carries a particularly high risk of infection and is often best left to a surgeon using full aseptic techniques. Lack of response to previous injections may be a relative contraindication.
If infection is suspected as the underlying cause of the musculoskeletal problem, injection of corticosteroids must be avoided for fear of exacerbating the infection. Corticosteroids are contraindicated in patients with septic arthritis.
Warfarin anticoagulation with international normalized ratio (INR) values in the therapeutic range is not a contraindication for joint or soft-tissue aspiration or injection.
What would you like to print?