Overview
Background
Medial epicondylitis of the elbow is a lesion of the common flexor tendon at the medial epicondyle (see the image below). [1, 2] This condition, also known as golfer's elbow, occurs primarily in golfers with faulty pullthrough, tennis players who have a twist American serve, and throwers. [3] It is substantially less common than lateral epicondylitis. [4] For information on injection for lateral epicondylitis, see Lateral Epicondyle Injection.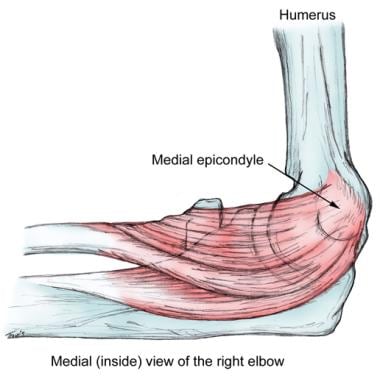 Medial epicondyle.
The diagnosis of medial epicondylitis is based on a history of pain over the medial epicondyle and the following findings on physical examination [5] :
Local tenderness directly over the medial epicondyle

Pain aggravated by resisted wrist flexion and radial deviation

Pain aggravated by strong gripping or decreased grip strength

Normal elbow range of motion (ROM)
The histopathology of the affected musculature reveals edema and fibroblast proliferation in the subtendinous space, tendinopathy with hypervascularity (particularly involving the flexor tendon), and spur formation with a sharp longitudinal ridge on the epicondyle. [6]
Patients report local tenderness and aching pain around the medial epicondyle while performing certain movements. Pain on resisted wrist flexion with the elbow in extension is the most reliable sign. Rarely, flexion of the fingers rather than of the wrist best elicits symptoms.
Corticosteroids often are injected in and around soft-tissue periarticular lesions to treat regional pain syndromes. [7, 8] Epicondylitis can be treated successfully in 90% of cases by local corticosteroid injection into the tender tendon origin at the humeral epicondyle. [3] No more than two repeat injections should be given, and the arm should not be strained for at least 3 months afterwards.
Ultrasonographically guided injection of platelet-rich plasma (PRP) for chronic tendinopathy has been described at various sites, including the medial epicondyle. [9, 10, 11, 12, 13, 14] Injection of bone marrow aspirate concentrate, collagen-producing cells, and stem cells has also been described. [15]
Pulsed therapeutic ultrasound, when used optimally, can be an effective alternative to injection. It is nonpainful but is less frequently successful. [16, 17]
Indications
Indications for medial epicondyle injection include the following:
Failure of conservative treatment

To shorten the symptomatic period

[18]

(long-term outcome in patients who receive injection is similar to that in patients who do not)

To speed up recovery in high-performance athletes, though this is a controversial practice
Contraindications
Joint or soft-tissue aspirations and injections have few absolute contraindications. The procedure should probably be avoided if the overlying skin or subcutaneous tissue is infected or if bacteremia is suspected. [3, 19] The presence of a significant bleeding disorder or diathesis or severe thrombocytopenia may also preclude joint aspiration. [3, 19] Lack of response to previous injections may be a relative contraindication.
Aspiration of a joint with a prosthesis in it carries a particularly high risk of infection and is often best left to a surgeon using full aseptic techniques. [3] If infection is suspected as the underlying cause of the musculoskeletal problem, injection of corticosteroid must be avoided for fear of exacerbating the infection.
Warfarin anticoagulation with international normalization ratio (INR) values in the therapeutic range is not a contraindication for joint or soft-tissue aspiration or injection.
What would you like to print?