Periprocedural Care
Equipment
Aspiration or injection of soft tissues may be performed as an outpatient procedure and does not require specialized equipment. [18] The following items are used:
Needle, 25 or 27 gauge

Readily available syringes for injection (3-5 mL)

Methylprednisolone acetate 30-40 mg

Lidocaine 1% (0.5-1 mL) without epinephrine
Patient Preparation
Anesthesia
Experienced physicians often prefer to use topical ethyl chloride or no anesthetic at all. The latter is often appropriate for joint aspiration; the capsule is difficult to anesthetize, and a single quick needle thrust may be much less painful than the administration of local anesthesia.
Positioning
Place the patient in a comfortable supine position; this facilitates relaxation and guards against possible fainting. [3] Have the patient flex the affected elbow to 90º with 90º of shoulder rotation. Mark the medial epicondyle and the olecranon process. (See the image below.)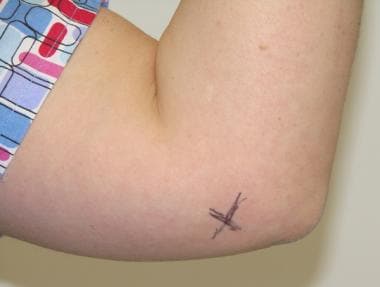 Medial epicondyle injection site.
What would you like to print?