Periprocedural Care
Equipment
The equipment needed for a single trigger finger injection includes the following (see the image below):
Syringe, 3 mL

Needle, 16 or 18 gauge, to withdraw the lidocaine and steroid - This is particularly important when multidose vials are used, so as to decrease any chance of cross-contamination

Needle, 25 or 27 gauge - The needle from a 1-mL insulin syringe is the right size and length (5/8 in.)

Lidocaine 1% (without epinephrine)

Corticosteroid - The author uses either 0.25 mL (10 mg) of triamcinolone (40 mg/mL) or 0.25 mL (1.5 mg) of betamethasone (Celestone Soluspan 6 mg/mL)

Povidone-iodine solution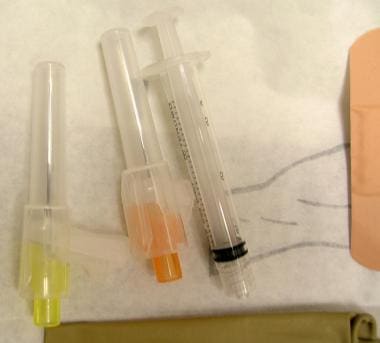 Equipment needed for injection of digital flexor tendon sheath.
Patient Preparation
Anesthesia
Digital flexor injection is usually performed with only local anesthesia. Various anesthetic techniques for this procedure have been described. The author's preferred technique is to mix 1% lidocaine without epinephrine with the corticosteroid of choice and to inject this mixture directly into the flexor sheath. Other authors have described placing a wheal of local anesthetic at the skin and separately injecting the steroid preparation through this site. For more information on local anesthetic injections, see Local Anesthetic Agents, Infiltrative Administration.
Positioning
The patient is seated, and the affected hand is supinated on a table or another flat surface (the foot support portion of a standard examination table works well for this). The provider is seated across from the patient so that the volar surface of the extended fingers is closest to the provider. The patient is asked to keep the hand as flat as possible; this assists the provider with placing the needle in the midline of the finger.
What would you like to print?