Presentation
History
Incessant pruritus (itchiness) is the central and most debilitating symptom of atopic dermatitis (AD); children often scratch themselves uncontrollably. Although pruritus may be present in the first few weeks of life, parents become more aware of the itch as the itch-scratch cycle matures when the patient is aged approximately 3 months. This skin condition typically has an intermittent course with flares and remissions occurring, often for unexplained reasons.
Data from a study by Garmhausen et al indicate that the natural course of the disease can be divided into subgroups with different clinical features. [42] The most frequent course type (31.1% of the sample) was characterized by an early disease onset (before age 2 years) and a chronic persisting course through adulthood.
Of the 607 patients in the study, 85.7% were categorized into 5 main different course types. [42] The greatest differences in the number of sensitizations, total immunoglobulin E serum levels, and predilection of skin lesions were seen between subjects with early-onset disease and a chronic persisting course until adulthood and those with late-onset AD developing after age 20 years.
AD patients often present with a personal or family history of type I hypersensitivity, allergic rhinitis, and asthma.
Essential historical features (must be present) are as follows:
Pruritus

Chronic or relapsing history of disease
Important historical features (supports the diagnosis) are as follows:
Atopy: Personal and/or family history
Physical Examination
Perform a routine skin examination to look for features associated with atopic dermatitis (AD). In younger patients, examine for dermatographism as many patient may have acute urticaria in the setting of AD.
Primary findings of AD include xerosis, lichenification, and eczematous lesions. Excoriations and crusting are common and some patients exhibit prurigo nodularis‒like lesions. The eczematous changes and its morphology are seen in different locations depending on the age of the patient.
Essential features (must be present) are as follows:
Pruritus

Eczema (acute, subacute, chronic): (1) Typical morphology and age-specific patterns (facial/neck/extensor involvement in children, flexural involvement in any age group, sparing the groin and axillary regions); (2) chronic or relapsing history
Important features (supports the diagnosis) are as follows:
Atopy: (1) Personal and/or family history; (2) IgE reactivity

Xerosis
Associated features (nonspecific but suggest the diagnosis of AD) are as follows:
Atypical vascular responses (eg, facial pallor, delayed blanch response)

Keratosis pilaris/pityriasis alba/hyperlinear palms/ichthyosis

Ocular/periorbital changes

Other regional findings (eg, perioral changes/periauricular lesions)

Perifollicular accentuation/lichenification/prurigo
Infancy
AD is usually noticed soon after birth. Xerosis occurs early and often involves the whole body; the diaper area is usually spared.
The earliest lesions affect the creases (antecubital and popliteal fossae), with erythema and exudation. Over the following few weeks, lesions usually localize to the cheeks, the forehead and scalp, and the extensors of the lower legs; however, they may occur in any location on the body, usually sparing the diaper area and the nose. Lesions are ill-defined, erythematous, scaly, and crusted (eczematous) patches and plaques.
Lichenification is seldom seen in infancy. A typical presentation is shown in the image below.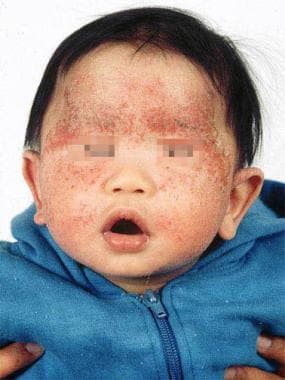 Atopic dermatitis. Typical atopic dermatitis on the face of an infant.
Childhood
Xerosis is often generalized. The skin is flaky and rough.
Lichenification is characteristic of childhood AD. It signifies repeated rubbing of the skin and is seen mostly over the folds, bony protuberances, and forehead.
Lesions are eczematous and exudative. Pallor of the face is common; erythema and scaling occur around the eyes. Dennie-Morgan folds (ie, increased folds below the eye) are often seen. Flexural creases, particularly the antecubital and popliteal fossae, and buttock-thigh creases are often affected. See the image below.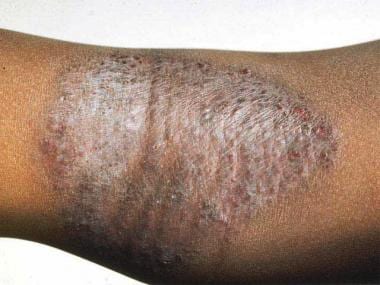 Atopic dermatitis. Flexural involvement in childhood atopic dermatitis.
Excoriations and crusting are common. The crusting with AD should not be confused with infection because both may manifest oozing and crusting.
Children with AD are likely to experience symptoms into their teens and beyond. [38, 39, 40]
Adulthood
Lesions become more diffuse with an underlying background of erythema. The face is commonly involved and is dry and scaly. Xerosis is prominent. Lichenification may be present. A brown macular ring around the neck is typical but not always present. It represents localized deposition of amyloid. See the image below.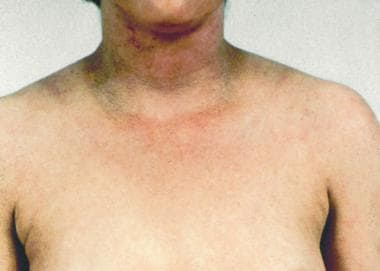 Atopic dermatitis. Dirty neck sign in chronic atopic dermatitis.
Diagnostic criteria
Until Hanifin and Rajka [43] developed diagnostic criteria for the diagnosis of AD in 1980, no standardized methods were available to make the diagnosis. Since then, numerous other experts have developed different criteria suitable for their own environment, and varying with age. The original criteria of Hanifin and Rajka have been modified many times. Efforts to develop practical clinical criteria have not been successful, and those available are not suitable for all geographic areas and age groups. The lack of a good biomarker for diagnosing the disease is an enormous obstacle to the study of AD.
Exclusionary conditions (conditions that should be excluded) are as follows:
Scabies

Seborrheic dermatitis

Contact dermatitis

Ichthyoses

Cutaneous T-cell lymphoma

Psoriasis

Photosensitivity dermatoses

Immune deficiency diseases

Erythroderma of other causes
Severity assessment
Several tools have been developed to assess the severity of atopic dermatitis. No one is considered the criterion standard, but some validated tools are listed below [44, 45, 46] :
Eczema Area and Severity Index (EASI) - Based solely on objective clinician assessment; primarily used in clinical trials

SCORing Atopic Dermatitis (SCORAD) - Combines objective clinician assessment and subjective patient assessment; primarily used in clinical trials

Patient-Oriented Eczema Measure (POEM): Based solely on subjective patient assessment; may be more convenient in clinical practice

Patient-Oriented SCORing Atopic Dermatitis (PO-SCORAD): Based solely on subjective patient assessment; may be more convenient in clinical practice
The Numerical Rating Scale is a subjective tool in which patients are asked, "On a scale of 0 to 10, with 0 being 'no itch' and 10 being 'worst itch imaginable', how would you rate your itch at the worst moment during the previous 24 hours?'".
What would you like to print?