Workup
Laboratory Studies
History and physical examination are often sufficient for diagnosing mild asymptomatic eruptions. Severe or persistent eruptions may require further diagnostic testing.
Much research is directed at identifying laboratory techniques that can establish a diagnosis of a drug eruption. In current practice, most of these techniques are still too early in development for routine clinical use. Diagnostic tools for the assessment of allergic rashes usually still depend on challenges to identify causative agents. [50]
Biopsy can be helpful in confirming the diagnosis of a drug eruption (eg, by showing eosinophils in morbilliform eruptions or numerous neutrophils without vasculitis in persons with Sweet syndrome). Drug eruptions are associated with a wide range of histologic findings, and immunomodulating medications can alter the histologic picture. [51]
CBC count with differential may show leukopenia, thrombocytopenia, and eosinophilia in patients with serious drug eruptions.
Serum chemistry studies may be useful. Liver involvement leading to death can occur in persons with hypersensitivity syndromes. Special attention should be paid to the electrolyte balance and renal and/or hepatic function indices in patients with severe reactions such as SJS, TEN, or vasculitis.
Antibody and/or immunoserology tests may be ordered. Antihistone antibodies are noted in persons with drug-induced SLE, whereas anti-Ro/SS-A antibodies are most common in persons with drug-induced SCLE.
Direct cultures may be needed to investigate a primary infectious etiology or secondary infection.
Urinalysis, stool guaiac tests, and chest radiography are important for patients with vasculitis.
Imaging Studies
Chest radiography, along with urinalysis and stool guaiac tests, is important for patients with vasculitis.
Other Tests
Rechallenge tests by means of skin prick or patch testing to confirm the causative agent is of limited value. Skin tests may be hazardous to patients who have had severe reactions. With the possible exception of acute generalized exanthematous pustulosis (AGEP), patch tests have a low sensitivity and specificity and are not useful. [52]
Histologic Findings
In some cases, biopsy may be helpful in establishing a diagnosis of a drug reaction.
Histopathology of an exanthematous drug eruption may show both superficial and deep perivascular inflammatory cell infiltrates. Eosinophils in the infiltrate suggest such a drug eruption (see the image below).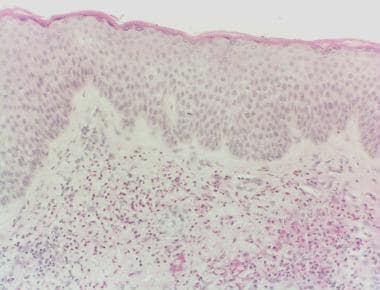 Superficial perivascular inflammatory infiltrate with numerous eosinophils characteristic of an exanthematous drug eruption.
In patients with Sweet syndrome, biopsy reveals edema of the superficial dermis and a dense infiltrate of neutrophils. Leukocytoclasia may be present, but vasculitis is absent.
Histopathology of TEN shows subepidermal split, full-thickness epidermal necrosis and a sparse perivascular lymphocytic infiltrate (see the image below).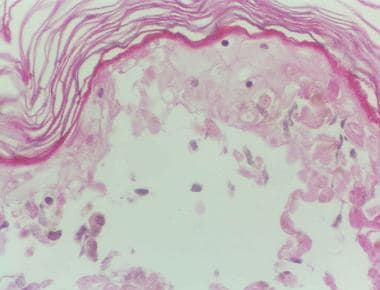 Confluent necrosis of the epidermis in toxic epidermal necrolysis.
What would you like to print?