Presentation
History and Physical Examination
The clinical manifestations of delayed pressure urticaria (DPU) differ from those typical of most types of urticaria. Onset is typically delayed, most commonly occurring 4 hours after the pressure stimulus. Less commonly, wheals due to pressure develop within minutes, in which case they may be confused with dermatographism. The lesions of DPU can persist for several hours and sometimes for as long as 72 hours, unlike those in typical urticaria, which resolve within 24 hours.
The physical findings in DPU include wheals, typically involving the palms, soles, legs, and waist. DPU lesions may also involve the genitals. The wheals, which appear as deep dermal and subcutaneous swellings, often resemble angioedema more than they do typical urticaria. Typical urticaria may also be present as a result of coexisting chronic idiopathic urticaria (CIU) or some other chronic physical urticaria.
The lesions may be pruritic, painful, or burning. They can occur on any cutaneous surface and may mimic angioedema. With severe episodes, patients may experience fever, malaise, fatigue, chills, headache, and generalized arthralgias. Affected areas can be refractory to the development of new lesions for 1-2 days.
As many as 60% of individuals with DPU have concomitant chronic idiopathic urticaria (CIU), immediate or delayed dermographism (dermatographism), or angioedema. In some reports, the incidence of DPU in patients with CIU varies considerably, ranging from 2% to 40%; other reports estimate the rate to be 2-4%. [1, 23, 24]
See the image below.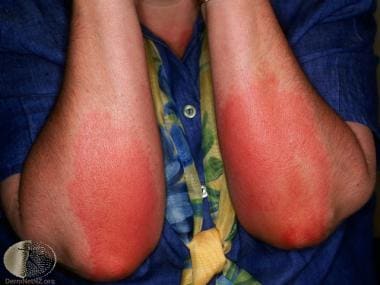 Delayed pressure urticaria. Courtesy of DermNet New Zealand (http://www.dermnetnz.org/assets/Uploads/reactions/pressure2.jpg).
What would you like to print?