Overview
Practice Essentials
Schnitzler syndrome is an autoinflammatory disease characterized by chronic, nonpruritic urticaria in association with recurrent fever, bone pain, arthralgia or arthritis, and a monoclonal gammopathy, most often of the immunoglobulin M (IgM) subtype. Approximately 10-15% of patients eventually develop a lymphoproliferative disorder, such as lymphoplasmacytic lymphoma, Waldenström macroglobulinemia, or IgM myeloma. See the image below.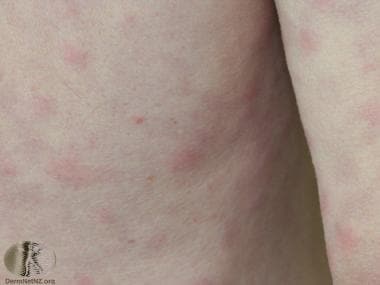 Rash of Schnitzler syndrome. Courtesy of DermNet New Zealand (http://www.dermnetnz.org/assets/Uploads/systemic/schnitzler.jpg).
Signs and symptoms
Schnitzler syndrome is characterized by the following signs and symptoms:
Chronic, recurrent, urticarial eruption: Occurs in all patients, usually as the first sign of the disease; primarily affects the trunk and the extremities and spares the palms, soles, and head and neck areas

Pruritus: Usually absent at disease onset, but lesions may become mildly pruritic in approximately 45% of patients after 3-4 years

Recurrent fevers: In approximately 90% of patients

Relapsing arthralgias: Concurrent with fever; reported in 80% of patients

Bone pain: Concurrent with fever; reported in 70% of patients

Myalgias: Concurrent with fever
The urticarial rash is characterized as follows:
Pale-rose, slightly elevated papules and plaques

Individual lesions are 0.5-3 cm in diameter

Lesions last 12-24 hours and then disappear without sequelae
See Clinical Presentation for more detail.
Diagnosis
Laboratory studies
Immunoglobulin M (IgM) or rarely IgG monoclonal gammopathy: Detected with serum immunoelectrophoresis, and the titers are low (usually < 10 g/L; occurs in all patients; in 51% of cases, however, serum protein electrophoresis may not detect it

Elevated erythrocyte sedimentation rate (ESR): Found in most cases

Elevated C-reactive protein level: Also detected in most cases

Leukocytosis: 70% of patients

Thrombocytosis: 20% of patients

Abnormal lymphoid proliferation: 20% of bone marrow biopsy samples, with nonspecific polyclonal lymphocytic and plasmacytic infiltrates
Imaging studies
Radiologic evaluation shows evidence of hyperostosis in 35% of Schnitzler syndrome patients. Often, the areas of hyperostosis coincide with areas of symptomatic bone pain, such as the iliac bone, tibia, femur, and vertebral column.
See Workup for more detail.
Management
Nonsteroidal anti-inflammatory drugs (NSAIDs), corticosteroids, and immunosuppressive agents have been reported to provide variable relief from the symptoms of bone pain and arthralgias associated with Schnitzler syndrome.
Systemic steroids may be somewhat effective at controlling the cutaneous eruption, but usually at doses that can cause significant, long-term adverse effects.
Pefloxacin mesylate may be a therapeutic option. In a case series of 11 patients, it was shown to significantly reduce the intensity and frequency of many of the manifestations of Schnitzler syndrome in a majority of the group, and it provided a steroid-sparing effect for some patients being treated with systemic corticosteroids. [1]
Inhibitors of interleukin (IL)–1 (anakinra, rilonacept and canakinumab) appear to be particularly effective. [2, 3]
See Treatment and Medication for more detail.
Background
Schnitzler syndrome was first described in a 1972 case report by French dermatologist Liliane Schnitzler, [4] who further described it 2 years later with several cases in 1974. Diagnostic criteria were established in 1999 by Lipsker et al. [5] Most cases have been reported in Europe, although more and more are being described in North America and elsewhere.
Pathophysiology
Schnitzler syndrome is an autoinflammatory disease for which the exact pathophysiology remains unclear. Dysfunction of several components of the innate immune system have been described, including the uncontrolled activation of interleukin 1-alpha (IL-1alpha). Increased levels of several members of the cytokine IL-1 family have been found, including IL-18. [6] Others hypothesize that the deposition of the IgM paraprotein, leading to the formation of immune complexes and the activation of the complement cascade, is responsible for the cutaneous manifestations of Schnitzler syndrome.
Etiology
No risk factors have so far been identified. The pathogenesis of Schnitzler syndrome is still not well defined. Patients have shown deposition of IgM in the involved tissue. Using anti-idiotype antibodies, IgM monoclonal antibodies were demonstrated to react with epidermal antigens. [7] In one case, monoclonal IgM was found to target 50-, 31-, and 17-kd proteins within epidermal extracts. [8] These findings suggest that the IgM deposits may be involved in the pathogenesis, perhaps via the formation of immune complexes and activation of the complement system.
IL-1alpha is a known mediator of inflammation, and its injection into the skin causes persistent erythema. One report noted that the serum from 6 of 9 patients with Schnitzler syndrome contained polyclonal immunoglobulin G (IgG)–type autoantibodies directed against IL-1alpha. [8] These autoantibodies have been shown to prolong the half-life of IL-1alpha, to change its tissue distribution, and to enhance its effects. Therefore, this increase in IL-1alpha activity could account for the symptoms of urticaria and fever. In recent years, treatment with the IL-1alpha and IL-1beta receptor antagonist, anakinra, has led to complete remissions. [9]
Elevated levels of interleukin 6 (IL-6), granulocyte-macrophage colony-stimulating factor (GM-CSF), and granulocyte colony-stimulating factor (G-CSF) have been found in the serum of some patients. [10] What role these cytokines play in the pathogenesis of Schnitzler syndrome is not clear.
An increase in cytokines associated with the IL-1 family has been demonstrated, in particular IL-18. Disturbances in mitochondrial function have also been reported. [11]
Epidemiology
United States
Only a few cases of Schnitzler syndrome have been reported from the United States.
International
Schnitzler syndrome is rare, with approximately 200 cases reported in the literature. The original case was from France, with the greatest number of cases originating from the same country. The vast majority of cases come from Western Europe.
Race
The majority of Schnitzler syndrome cases are in white western Europeans.
Sex
Males have a slight predominance with a ratio of 1.76:1.
Age
Patients with Schnitzler syndrome have ranged from age 13-71 years at the time of diagnosis. The average age of onset is approximately 52 years, [12, 1] although the average delay to diagnosis is more than 5 years.
Prognosis
Most Schnitzler syndrome patients have a chronic benign course. No spontaneous complete remissions have been reported. Overall, the prognosis for Schnitzler syndrome is good. However, approximately 10-15% of patients develop a lymphoplasmacytic malignancy.
Approximately 10-15% of patients eventually develop a lymphoproliferative disorder, including lymphoplasmacytic lymphoma, Waldenström macroglobulinemia, or IgM myeloma. Schnitzler's original patient died at age 88 years, with a diffuse lymphoplasmacytic infiltration of his liver and bone marrow. Thus, the initial workup of a Schnitzler syndrome patient should include an examination of the bone marrow, immunoelectrophoresis of serum, and a urinary protein level. A lymph node biopsy should be performed if the nodes are enlarged.
Kidney involvement has been described as a rare complication, but it improved with treatment in the cases reported. [13]
What would you like to print?