Presentation
History
Patients often cannot recall an inciting event, but a history of recent trauma or pharyngitis may be elicited. Prodromal symptoms, such as malaise, chills, and high fever, often begin before the onset of the skin lesions and, if present, usually occur within 48 hours of cutaneous involvement. Pruritus, burning, tenderness, and swelling are typical complaints.
Other symptoms may include the following:
Headache and other systemic manifestations of an infectious process
Associated comorbidities in erysipelas include diabetes mellitus, as well as hypertension, chronic venous insufficiency, and other cardiovascular diseases. [10]
Physical Examination
Erysipelas involves the lower extremities in 80% of patients; the face is most often affected in the remainder of the cases. [11]
The patient may appear healthy or toxic depending on the extent of infection. Erysipelas begins as a small erythematous patch that progresses to a fiery-red, indurated, tense, and shiny plaque, as shown in the images below.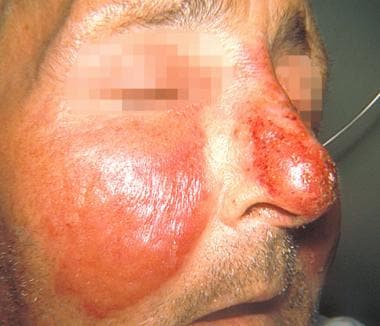 Well-demarcated, erythematous plaque of erysipelas. Courtesy of the US Centers for Disease Control and Prevention.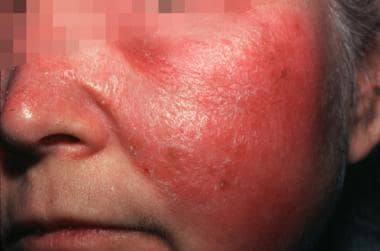 Facial erysipelas exhibiting classic fiery-red plaque with raised, well-demarcated borders.
The lesion classically exhibits a sharply raised border with abrupt demarcation from healthy skin and with advancing margins, often referred to as the step sign. [14] This is in opposition to the slightly deeper involvement seen in cellulitis, in which lesions present with limited edema and less well-defined borders. Local signs of inflammation, such as warmth, edema, and tenderness, are characteristic of this infection but may be lacking in the setting of immunosuppression. Lymphatic involvement often is manifested by overlying skin streaking and regional lymphadenopathy. Erythema is irregular, with extensions that may follow lymphatic channels (lymphangitis).
More severe infections may exhibit numerous vesicles and bullae, along with petechiae and even frank necrosis. With treatment, the lesion often desquamates and can resolve with pigmentary changes that may or may not resolve over time.
What would you like to print?