Presentation
History
Dark discoloration associated with erythrasma is usually limited to body folds that are naturally moist and occluded. Infection commonly is asymptomatic, but it can be pruritic. The duration of erythrasma ranges from months to years. Widespread involvement of trunk and limbs is possible.
Immunosuppressed patients with erythrasma and the risk of complications are of special concern. Evaluate and treat possible concomitant infection. Suspect diabetes in recurrent erythrasma. Address and modify risk factors for successful treatment.
Physical Examination
The typical appearance of erythrasma is well-demarcated, brown-red macular patches. The skin has a wrinkled appearance with fine scales (see the image below).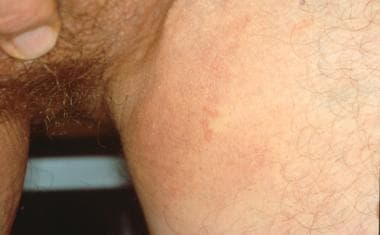 Lichenification and hyperpigmentation are common. The skin occasionally has a wrinkled appearance with scales. KOH test results are negative. Courtesy of Michael Bryan, MD.
Infection commonly is located on the inner thighs, crural region, scrotum, and toe webs. The axillae, submammary area, periumbilical region, and intergluteal folds are less commonly involved in erythrasma. Toe web lesions appear as maceration, with the fourth interdigital space most frequently affected. [8]
Owing to the association of erythrasma with other corynebacterial skin infections such as pitted keratolysis and trichomycosis axillaris, all body folds and feet should be screened. This association has been investigated in 53 patients with pitted keratolysis who had skin signs of other corynebacterial infections. Erythrasma was encountered in 2 of 53 of this cohort in male patients, whereas trichobacteriosis was noted in 4 of 53. One patient presented simultaneously with all the three conditions. [23]
Complications
Note the following possible complications:
Fatal septicemia in immunocompromised patients with erythrasma

Infective endocarditis in valvular heart disease patients with erythrasma

Postsurgical wound infection in erythrasma patients
What would you like to print?