Workup
Laboratory Studies
Wood light examination of erythrasma lesions reveals coral-red fluorescence of lesions. Results may be negative if the patient bathed prior to presentation. [31] Note the image below. The cause of this color fluorescence has been attributed to excess coproporphyrin III synthesis by these organisms, which accumulates in cutaneous tissue and emits a coral-red fluorescence when exposed to a Wood light. [32]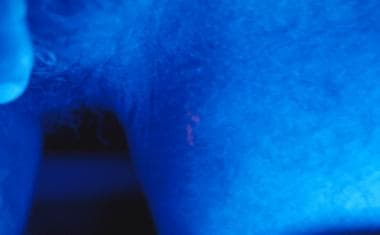 Under Wood lamp examination, the porphyrins produced by the bacteria fluoresce with a coral pink color. A small focus is visible on this photo. If the patient recently has bathed, the pigment may be washed away. In suspicious cases, a repeat examination the following day may be necessary. Courtesy of Michael Bryan, MD.
In culture media composed of 20% fetal bovine serum, 2% agar, 78% tissue culture medium #199, and 0.05% tris, the organisms grow as nonhemolytic, 1- to 1.5-mm smooth colonies. Methylene blue stain may be used to highlight both the fungal spores of pityriasis versicolor and the curved or club-shaped bacterial rods of C minutissimum, the causative agent of erythrasma, in case both organisms coexist. [25]
Comparing the diagnostic yield between Wood lamp examination and Gram stain, it was found that 9% of patients were positive on the former and 15.6% were positive on the latter. Using both Wood lamp examination and Gram staining concurrently resulted in a higher yield of 22.1% for positive patients. [30]
Histologic Findings
The diphtheroid bacteria that cause erythrasma are present in the horny layer as rods and filaments. [33]
What would you like to print?