Presentation
History
Pseudomonas folliculitis is characterized by a rash, described as a dermatitis or a folliculitis. The rash onset is usually 48 hours (range, 8 h to 5 d) after exposure to contaminated water, but it can occur as long as 14 days after exposure. [28]
Lesions begin as pruritic, erythematous macules that progress to papules and pustules. Lesions are most prevalent in intertriginous areas or under bathing suits. The rash usually clears spontaneously in 2-10 days, rarely recurs, and heals without scarring, but it may cause desquamation or leave hyperpigmented macules. Pseudomonas may be cultured in patients with epidermal growth factor inhibitor‒related folliculitis. [29]
Physical Examination
The predominant manifestation of Pseudomonas folliculitis is dermatitis (79%).
Pseudomonas folliculitis is characterized by follicular papules, vesicles, and pustules, which may be crusted. Lesions involve exposed skin, but they usually spare the face, the neck, the soles, and the palms. Lesions progress to erythematous papulopustules that range in size from 2-10 mm in diameter, with a pinpoint central pustule. The rash is not unique in appearance and is most often confused with insect bites. See the images below.
Erythematous papulopustules of pseudomonas folliculitis. Courtesy of Mark Welch, MD.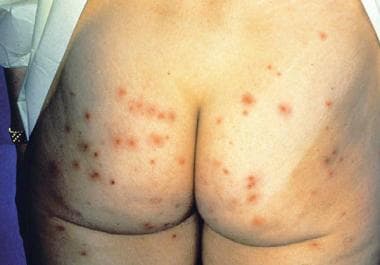 Erythematous papulopustules of pseudomonas folliculitis, with significant perilesional flare. Courtesy of Andy Montemarano, MD.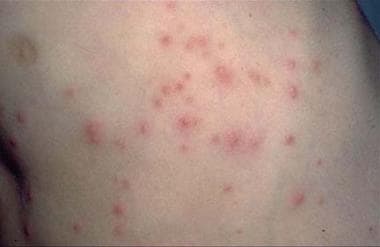 Pseudomonas folliculitis. Courtesy of Hon Pak, MD.
Other systemic signs of Pseudomonas folliculitis that can occur with the rash include the following:
Low-grade fever (4%), often accompanied by headache (15%) and malaise/fatigue (19%)

Otitis media and otitis externa [30]

Breast tenderness in both women and men (The glands of Montgomery on the nipple may become infected or may involve frank mastitis [11%].)

Urinary tract infection (UTI) (rare) [31]
Rarely, lesions may progress to chronically draining subcutaneous nodules.
What would you like to print?