Presentation
History
Trichomycosis axillaris typically is asymptomatic; however, patients may report malodorous sweat. Trichomycosis axillaris may be associated with similar findings of hair concretions in the pubic area (trichomycosis pubis). [7]
Physical Examination
Concretions encircle the hair shaft, making it appear beaded or thicker. Concretions are most common on the central portion of axillary hair.
Concretions consist of 1- to 2-mm red, black, or yellow nodules that adhere firmly to the hair shaft. The insoluble cement substance elaborated by the bacteria adheres to the hair shaft and, occasionally, invades and destroys cuticular and cortical keratin. The yellow color is observed most commonly (see the image below) and may stain clothes yellow. Black and red are seen most commonly in tropical climates.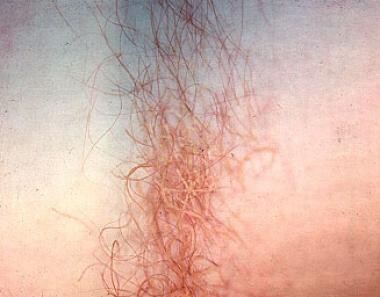 Yellow concretions are seen over axillary hairs.
The hair shaft may become brittle and thus, more easily broken, but this is rare. Typically, since the hair shaft is not weakened, alopecia is not seen.
The underlying skin usually is normal, although hyperhidrosis of the affected regions is common.
What would you like to print?