Overview
Background
Gram-negative interweb foot impetigo is a relatively common and troubling disorder. [1] The infection is commonly associated with the use of closed-toe or tight-fitting shoes and in individuals in whom strong physical exertion plays an important role in athletic, occupational, or recreational activities.
Gram-negative mixed bacterial infection with organisms, such as Moraxella, Alcaligenes, Acinetobacter, Pseudomonas, Proteus, and Erwinia species, may represent a mild secondary infection of tinea pedis. Over time, in the setting of moisture and maceration, multiple fungal and bacterial organisms may proliferate. [2] The process may progress to advanced stages of gram-negative infection with sepsis. Similarly, staphylococcal extranasal carriage in toe webs may also be a risk factor for sepsis in patients who receive hemodialysis. [3] Note the image below.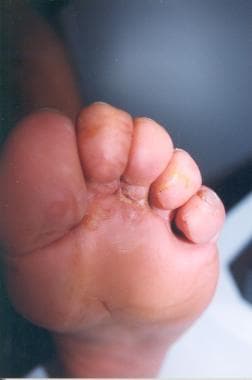 A 33-year-old man with interweb exudative patches. Courtesy of Rajendra Kapila, MD, Professor of Infectious Diseases, New Jersey Medical School.
Pathophysiology
Typically, the interweb space is colonized by polymicrobial flora. Initially, a dermatophyte infection at this site may damage the stratum corneum and produce natural substances with antibiotic properties that alter the composition of the resident bacterial flora, encouraging the proliferation of antibiotic-resistant strains. [4]
Gram-negative bacteria may resist the antibacterial agents and many of the commonly used therapeutic agents. In other cases, marked hyperhidrosis with cutaneous maceration, often seen in people who enjoy vigorous athletic endeavors, may predispose individuals to gram-negative bacterial toe web infection. Pseudomonas aeruginosa, often together with other gram-negative bacteria, is the most common etiologic agent. [1, 5] Green nail syndrome, toe web infection, hot tub folliculitis, hot hand-foot infection, and external otitis are the most common infections originating from the skin itself. [6, 7, 8]
The toe web space provides a hospitable niche for gram-negative microorganisms; infection can quickly progress from mild overgrowth of resident bacteria to an advanced, severe, gram-negative infection. Lesions that affect the interdigital spaces can occasionally extend to the planta and the backs of the toes. The most frequent complaint of patients is burning and pain, and, in severe infection, problems with walking are noted.
Gram-negative bacteria gain access to the bloodstream from foci of tissue infection or possibly from heavy colonization. Trauma, tinea pedis, or depressed host resistance, as in diabetes mellitus or HIV disease, may also predispose individuals to the infection.
A US military survey for gram-negative bacteria colonization in healthy, asymptomatic military personnel (101 in the United States and 100 in Afghanistan) showed toe web spaces colonized in 35% with non–multidrug-resistant bacteria. [9]
Etiology
The cause of gram-negative toe web infections may be related to several factors. Overgrowth of gram-negative organisms between the toes may cause the infection. Predisposing factors may include eczema and psoriasis, tinea pedis, exposure to humidity or hyperhidrosis, and vascular disorders and diabetes mellitus. There may be an association between foot gram-negative bacteria and diabetic foot ulceration.
Constant wearing of closed-toe shoes so that air does not circulate around the feet increases the likelihood of overgrowth of the microorganisms that create infections. Sporting activities, especially water-related sports, increase the likelihood of growth of the bacterial organisms.
Epidemiology
Frequency
United States
Few data are available on the frequency of gram-negative toe web infections.
International
A limited number of cases have been reported.
Race
Gram-negative toe web infection can affect any race.
Sex
Men appear to be more frequently affected, with a male-to-female ratio of 4:1 reported in one study. [1]
Age
Gram-negative toe web infection affects young and elderly persons. In one series, patients were reported to be aged 1-74 years. The disorder rarely involves infants or children.
Prognosis
In most patients, the prognosis is excellent. With appropriate therapy, complete recovery is usually attained.
Patient Education
What would you like to print?