Workup
Laboratory Studies
Culture the draining sinuses for aerobic, anaerobic, fungal, and mycobacterial pathogens.
Imaging Studies
Positron emission tomography scanning has been used to diagnose malakoplakia in 2 cases of renal disease. Intense uptake of fluorodeoxyglucose was noted in the kidney. [43, 44]
MRI of a patient with renal malakoplakia has shown multiple nodules with low signal on T1-weighted, T2-weighted, and early and late postgadolinium images. [45]
Because the appearance of testicular malakoplakia on sonography overlaps with that of testicular neoplasm and infection, it should be considered when making a differential diagnosis of a diffuse testicular abnormality. [46]
Procedures
Perform a biopsy of the skin lesion. Tissue processing follows by using routine hematoxylin and eosin stain, periodic acid–Schiff stain, von Kossa stain for calcium, and Perls Prussian blue stain for iron.
Malakoplakia may lead to an overestimation of the stage of an underlying gastrointestinal malignancy. Careful consideration and evaluation of biopsy material is required to exclude this condition and correctly stage the patient to direct therapy for the underlying cancer.
Other Tests
A minimally invasive technique using image-guided aspiration and cytomorphological analysis was reported to help diagnose a case of pancreatic malakoplakia and avoid possibly unnecessary surgeries for suspected tumor. [42]
Histologic Findings
Sheets of ovoid histiocytes with fine eosinophilic cytoplasmic granules (von Hansemann cells) are seen on routine staining. Histiocytes with 5- to 15-mm basophilic inclusions with concentric laminations (Michaelis-Gutmann bodies) are diagnostic. Michaelis-Gutmann bodies demonstrate positive results using periodic acid–Schiff stain and are diastase resistant. They stain with von Kossa stain for calcium and Perls Prussian blue stain for iron.
Electron microscopy results show that Michaelis-Gutmann bodies consist of lysosomes filled with partially digested bacteria. Gram stain may demonstrate gram-negative bacteria. Immunohistochemical studies demonstrate positive results for CD68 antibodies, lysosomes, and α -chymotrypsin. Immunostaining with polyclonal anti– Mycobacterium bovis antibody may demonstrate organisms in patients with malakoplakia.
See the images below.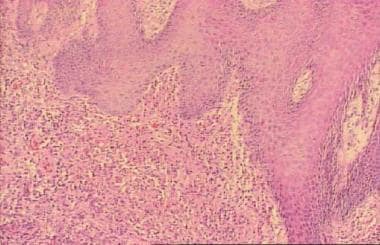 Cutaneous malakoplakia.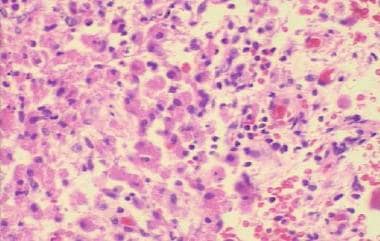 Michaelis-Gutmann body in a patient with malakoplakia.
What would you like to print?