Presentation
History
Most acquired digital fibrokeratoma patients present with an asymptomatic protuberance.
Physical Examination
Clinically, acquired digital fibrokeratomas manifest as solitary, skin-colored, dome-shaped papules or tall fingerlike protrusions with a hyperkeratotic surface. Most acquired digital fibrokeratoma lesions are small and do not exceed 1.5 cm in height or diameter, but giant lesions measuring in excess of 3 cm have been documented. [14, 15]
An important clinical finding reported to help differentiate acquired digital fibrokeratomas from other similar lesions is a collarette of slightly raised skin that encircles the base of the lesion, thereby creating a moatlike configuration. [16]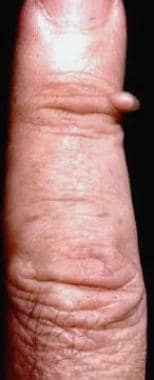 Clinical picture of a pedunculated acquire digital fibrokeratoma.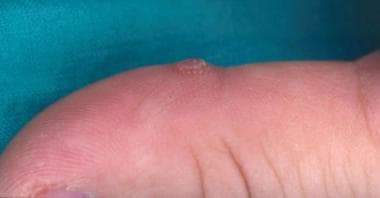 Flat-topped, skin-colored acquired digital fibrokeratoma in an acral location.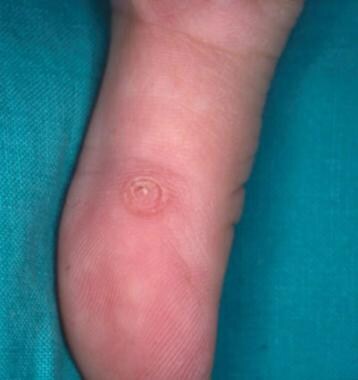 Slightly raised skin encircling the base of an acquired digital fibrokeratoma, creating a moat.
What would you like to print?