Presentation
History
Patients usually give a history of many years of a progressive appearance of asymptomatic papules on the scrotum. The patient may not be aware of the lesions, and bleeding (spontaneous, after intercourse or scratching) may be the first presentation causing the patient to seek medical help. [2, 10]
Many cases are reported in which help was sought to rule out a sexually transmitted disease or to rule out malignancy. [5, 27, 26]
Bleeding from vulval lesions may occur spontaneously, during pregnancy, or after intercourse. [5]
Most authors report that lesions are asymptomatic; however, a few describe pain or itching. [28]
Physical Examination
Fordyce angiokeratomas appear as black, blue, or dark red, dome-shaped papules ranging from 1-6 mm in diameter, with a mean of 3 mm. The overlying surface may show slight scales (hyperkeratosis). [29]
Reports suggest that in younger patients, the lesions tend to be smaller, more erythematous, and less hyperkeratotic. Older patients have larger, darker lesions (blue/black) with overlying scales. [5]
The lesions can present as singular or multiple. In a study of 25 women with vulval lesions, 50% of the cases had solitary lesions. [5]
Lesions have been reported on the labia majora, shaft of the penis, corona of the glans penis, inner thigh, and lower abdomen. The scrotum is the most common site. [30, 31]
See the images below.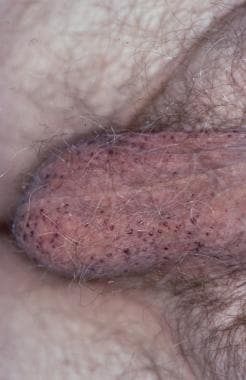 Image courtesy of Hon Pak, MD, and reviewed by Ross Levy, MD.
Close-up of the eruption. Image courtesy of Hon Pak, MD, and reviewed by Ross Levy, MD.
Causes
The role of coexistent venous hypertension, varicocele, or status post radiotherapy remains uncertain and warrants further investigation.
Complications
As mentioned previously, bleeding is the only major complication.
What would you like to print?