Overview
Background
Atypical fibroxanthoma (AFX) is a tumor that occurs primarily in older individuals after the skin of the head and neck has been damaged significantly by sun exposure and/or therapeutic radiation. Clinically, lesions usually are suggestive of malignancy because they arise rapidly (over just a few weeks or months) in skin in which other skin cancers have been found and treated. When this clinical impression is combined with highly anaplastic pathology, misdiagnosis can result in unnecessary and extensive surgery and radiation. The image below demonstrates the typical clinical presentation of an atypical fibroxanthoma.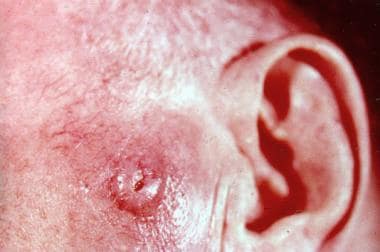 Red, beefy, sessile nodule typical of clinical presentation of atypical fibroxanthoma. Note the markedly sun-damaged skin with solar telangiectasias. Courtesy of Capt James Steger, MC, USN, US Naval Hospital, San Diego.
Histologically, lesions show a highly atypical and pleomorphic cellular appearance, but they typically respond to simple excision. Clinicopathologic correlation is essential. Factors important to consider are lesion location, patient age, histopathologic appearance, and the observation that the tumor arises from the dermis, not the fat. Many AFX tumors may represent a superficial form of malignant fibrous histiocytoma (MFH) with a much better prognosis. Some cases may represent primary squamous cell carcinoma (SCC) that fails to express keratin.
Etiology
Sun exposure and/or therapeutic radiation that have caused significant skin damage are associated with the development of atypical fibroxanthoma (AFX). The tumor primarily occurs on the head or neck of older individuals. [1]
Epidemiology
Sex
Male-to-female ratio is equal.
Age
In one study, age ranged from 13-95 years with a mean age of 69 years.
What would you like to print?