Presentation
History
Typically, the cysts are asymptomatic. They may appear suddenly or develop over a period of months. Grooving of the nail may precede the clinical manifestation of the cyst itself by up to 6 months. Often, osteoarthritis of the small joints is noted at the site of cyst emergence. Intermittent spontaneous discharge of cyst contents can occur, and, in a significant fraction of cases, cysts may disappear spontaneously.
Antecedent trauma has been documented in a small minority of cases. As cysts enlarge, pain is an increasingly common complaint. Patients are also likely to complain about the appearance of larger cysts and may report interference with function.
Physical Examination
Pertinent physical findings are limited to the skin, joints, and nail unit. Note the images below.
Digital mucous cyst proximal to nail unit.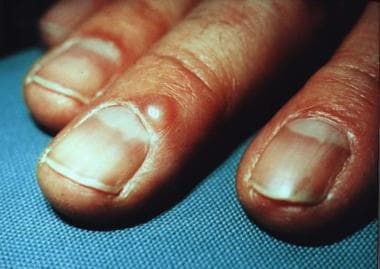 Digital mucous cyst at proximal nail fold.
Digital mucous cysts are usually solitary, round-to-oval, dome-shaped, firm-to-fluctuant papulonodules from 1-10 mm in diameter that have overlying skin that ranges from very thin to moderately thick. The cysts contain a viscous, gelatinous fluid that may be clear or yellow-tinged. Some cysts are verrucose. Pain is associated with relatively larger cysts.
The cysts are located off the midline of the digits and, according to one series, are more common on the radial than ulnar aspect of the fingers. They most often are found on the dorsolateral aspect of the fingers, intradermally, between the DIP joint and proximal nail fold. [5] Less frequently, they occur between the proximal nail fold and the nail plate, beneath the nail matrix, or in the pulp of the digit. Cysts most frequently are found on the middle or index finger of the dominant hand; toe involvement is less common. [6] Cysts located under the nail plate (subungual cysts) have common features that have been characterized in one series. In most cases, the lunula is discolored (most often red, less often blue) and transverse curvature of the nail is almost always increased, frequently resulting in lateral ingrowth
Digital mucous cysts are translucent to flesh-colored. One case report described a herpetiform appearance. [7] Lesions may be solitary or present as multiple nodules. [8] When they are under the nail matrix, a red lunula and a longitudinal brownish band may be seen.
Longitudinal grooving or depression of the nail occurs when digital mucous cysts involve the posterior nail fold. Grooving may be accompanied by transverse ridging and thinning of the nail overlying the cyst. Gross disruption of the nail is less common. Digital mucous cysts are more likely to be above than below the nail matrix.
A consensus has emerged that digital mucous cysts are frequently, if not always, located at osteoarthritic joints.
What would you like to print?