Overview
Background
A poroma is a benign adnexal neoplasm composed of epithelial cells that show tubular (usually distal ductal) differentiation. [1] The malignant counterpart of a poroma is referred to as porocarcinoma. [2] Poromas historically have been considered glandular adnexal neoplasms of eccrine lineage, and this view is so entrenched that the neoplasm is often referred to as eccrine poroma; however, analyses by many investigators suggest that poromas can be of either eccrine or apocrine lineage. Apocrine poromas are probably more common than those of eccrine lineage. [3, 4]
Poromas belong to the spectrum of acrospiromas, along with nodular hidradenomas, clear cell hidradenomas, dermal duct tumors, and hidroacanthoma simplex. [5, 6]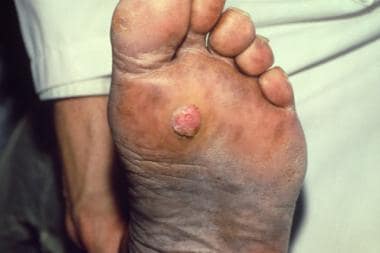 Poroma. Courtesy of Jeffrey Meffert, MD.
Pathophysiology
A poroma is a benign neoplasm that shows differentiation toward poroid (glandular ductal) cells. The malignant counterpart of poromas is porocarcinoma, which also shows poroid differentiation. Poromas occur only in the skin and are not known to affect any other tissues. [7, 8, 9]
Etiology
The specific causes of poromas are not known. In contrast to some adnexal neoplasms of follicular lineage, poroma development has no established familial predilection.
Epidemiology
Frequency
Precise prevalence figures have not been calculated for this benign neoplasm. The worldwide prevalence for poromas is not thought to differ from that observed in the United States.
Race
Poromas are not known to have racial or ethnic predilection.
Sex
No sex predilection is known in the distribution of poromas. Males and females are equally affected.
Age
Poromas can develop in persons of any age, but onset is typically in adulthood.
Prognosis
The prognosis of poromas is favorable because the lesions have no known clinical significance. Even poromatosis (multiple poromas) is not known to be associated with other anomalies. The risk of malignant transformation of a poroma is minimal and is thought to be similar to that of normal skin.
A poroma usually manifests as a solitary papule or nodule. [10] Most lesions are asymptomatic, but minor pain can accompany some lesions. Rarely, the patient develops multiple poromas simultaneously, a phenomenon known as poromatosis. Multiple poromas may be of cosmetic concern and are sometimes disabling, especially if involvement of the sole is noted.
What would you like to print?