Presentation
History
Eruptive vellus hair cysts (EVHCs) typically develop as an acneiform eruption on the chest and extremities. [5] EVHCs have also been reported on the eyelids and periorbital skin,as well as the labium major. [6, 7, 8, 9] Often, no antecedent trauma or triggering factor is reported. EVHCs may be congenital or acquired. Several reports have noted familial cases in which the condition is thought to be inherited as an autosomal dominant trait. [10, 11, 12] EVHCs may be present at birth or arise in childhood. In sporadic cases, lesions typically arise in the first and second decades with the onset of puberty.
Physical Examination
Eruptive vellus hair cysts (EVHCs) appear clinically as discrete follicular papules. Papules may appear erythematous, yellow, bluish-gray, or even slightly brown. The chest and flexor or extensor surfaces of the extremities are the most common sites of involvement. Generalized EVHCs and facial variants are reported. EVHCs may also be seen on the ears. [13] A single case report describes unilateral EVHCs of the face. [14]
Patients may have just a few cysts, or, often, they may have several hundred. More than 400 cysts were seen on a patient with generalized EVHC. Cysts are usually dome-shaped with a smooth surface, measuring 1-4 mm in diameter. Cysts sometimes demonstrate central puncta, hyperkeratotic crusts, or umbilication. Mechanical irritation of the cysts may produce transepidermal elimination of retained vellus hairs, similar to that seen in perforating folliculitis.
Note the images below.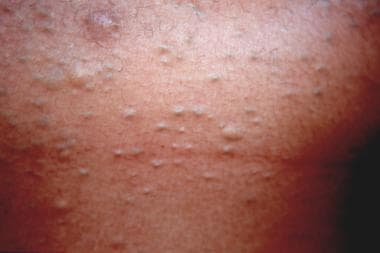 Clinical photo of eruptive vellus hair cysts showing involvement on the patient's chest.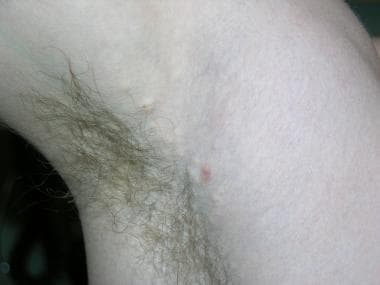 Eruptive vellus hair cysts in the axilla.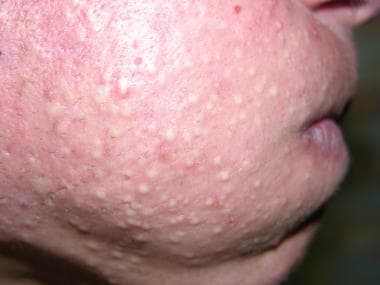 The patient seen here is expanding his cheek with air to better demonstrate multiple eruptive vellus hair cysts on the face.
What would you like to print?