Presentation
Physical Examination
The lesions are clinically indistinct. Fibrous papules are usually dome-shaped lesions with a shiny, skin-colored appearance. Occasionally, lesions are sessile, polypoid, or papillomatous. Most of the lesions are firm and indurated. Size usually ranges from 1-5 mm in diameter.
Fibrous papule of the face usually occurs as a single lesion (as shown below), but, occasionally, several lesions may be present. A case of 68-year-old healthy woman with multiple, approximately 100-150, fibrous papules on the face with no apparent underlying genodermatosis or endocrine disorder has been reported. [3]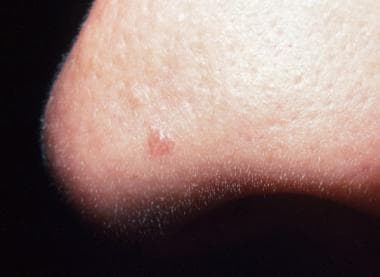 Fibrous papule of the nose. Courtesy of San Antonio Uniformed Services Health Education Consortium Dermatology slide files.
Most lesions are located on the nose and, less commonly, on the cheeks, chin, neck, and, rarely, on the lip [10] or forehead. Similar papules may be present on the fingers or oral mucosa, where they have been described as reactive nodular hyperplasia or giant cell fibroma.
What would you like to print?