Workup
Histologic Findings
Fibrous papules are characterized by a proliferation of stellate and spindled cells, a fibrotic stroma, and dilated blood vessels. Occasionally, a sparse inflammatory cell infiltrate of lymphocytes is present.
Acanthosis and an increased number of large polygonal melanocytes may be present in the basal layer. Elastic tissue may be markedly diminished or entirely absent.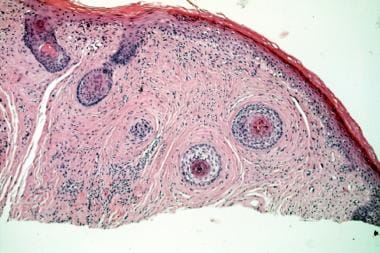 Histopathology of a fibrous papule shows focal fibrosis and vascular proliferation in the upper dermis. Courtesy of Dirk Elston, MD.
Dermal dendritic cells usually stain for factor XIIIa. Fibrous papules will be negative for S100 protein. [11]
Several histological subtypes have been described, which might cause diagnostic difficulties.
Hypercellular fibrous papule is characterized by an increased number of stellate and spindled cells; differential diagnoses include malignant melanoma and atypical fibroxanthoma. [6]
Clear cell fibrous papule shows a proliferation of round clear cells, some with cytoplasm ranging from finely granular to foamy, resembling histiocytes or clear epithelial cells; differential diagnoses include clear cell neoplasm and metastasis. [7] Some authors also differentiate a granular cell fibrous papule, which is similar to the clear cell fibrous papule but seems to contain coarser cytoplasmic granules. [8]
Pleomorphic fibrous papule is characterized by bizarre, stellate fibroblasts; differential diagnosis includes pleomorphic fibroma.
Pigmented fibrous papule demonstrates prominent melanocytic hyperplasia and dermal macrophages; differential diagnoses include nevus and melanoma.
Inflammatory fibrous papule has dense, diffuse dermal infiltrate of predominantly mixed small and large lymphocytes with plasma cells, histiocytes, and rare eosinophils and neutrophils; differential diagnoses include lymphoma, lymphocytic infiltrate, and an infectious process.
More recently, an epithelioid variant has been described. [6] Histopathologically, it consists of epithelioid-type cells with pink cytoplasm, medium-sized nuclei, and, sometimes, prominent nucleoli; differential diagnoses include melanoma, intradermal nevus, Spitz nevus, xanthogranuloma, and dermatofibroma.
In a study of 32 cases of fibrous papules of the face, Tokat et al noted a pronounced dendritic pattern in all cases on grade 4 staining with CD163 immunohistochemistry. This pattern was also present in atypical fibrous papule cases. [9]
What would you like to print?