Presentation
History
Patients with halo nevi are usually asymptomatic. The central nevus may or may not involute with time. Repigmentation often takes place over months or years; however, it does not always occur. Occasionally, inflammation occurs with crusting in the depigmented zone of a halo nevus. Most commonly, the chief complaint is that of a changing mole (or moles).
Physical Examination
Halo nevi are usually single but may be multiple. They can develop anywhere on the body but are seen most frequently on the trunk. Clinically, they appear as one or more uniformly colored, evenly shaped, round or oval nevi centrally with even peripheral margins of hypopigmentation. The central nevus may be tan, pink, or brown. The width of the halo is variable but is generally of uniform radial distance from the central nevus.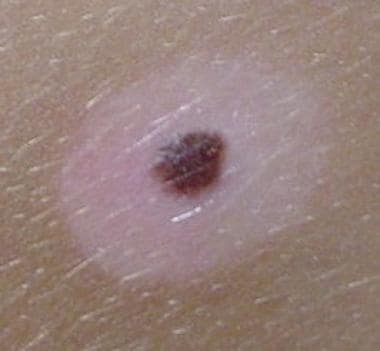 Classic appearance of a halo nevus.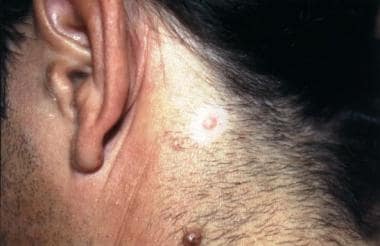 Note the central pink papule (intradermal nevus) and the surrounding halo. The halo is of uniform width at all points, and no inflammatory component can be seen. Note the normal nevus directly inferior.
What would you like to print?