Workup
Other Tests
Performing an examination using a Wood lamp may aid in differentiating halo nevi from other disorders.
Procedures
Lesions that are not uniform in shape and color or that have a papular component that is not centrally located should be considered for biopsy to exclude the presence of melanocytic atypia.
Histologic Findings
The histology of halo nevus is variable depending on the age of the lesion; however, in most cases, a dense, somewhat bandlike lymphocytic infiltrate is present in the papillary and often reticular dermis with nests of nevus cells located centrally. The lesion usually demonstrates a dome-shaped architecture similar to that seen in noninflamed nevi. Identifying residual nevus cells may be difficult in some cases, particularly with older lesions or those in which the infiltrate is quite dense. Mitotic figures usually are not seen, although occasional apoptotic cells may be identified. Macrophages may be seen within the infiltrate, some of which are laden with melanin, although, surprisingly, the number of melanophages is less than would be expected in an inflamed melanocytic lesion.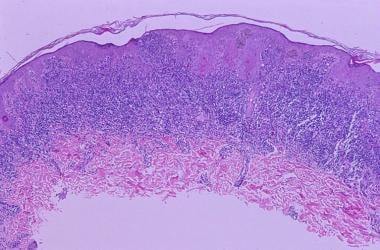 At low magnification, a dome-shaped papular lesion reveals a dense infiltrate of lymphocytes in the dermis (hematoxylin and eosin, original magnification X40).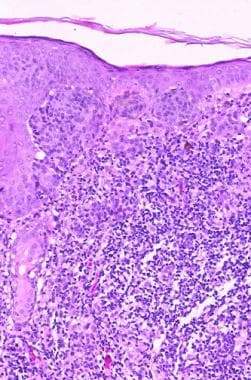 Higher magnification reveals nests of nevus cells with numerous lymphocytes surrounding them and in the interstitium (hematoxylin and eosin, original magnification X40).
In more mature lesions, nevus cells may appear to be absent or decreased in number. Clinically, a noninflammatory halo nevus may demonstrate a halo, but, histologically, virtually no inflammatory infiltrate may be present. Conversely, some nevi may demonstrate marked inflammation, but, clinically, no halo is visible. Therefore, clinical correlation is important in rendering a diagnosis of halo nevus. The most important lesion to differentiate from halo nevus is melanoma (see Table).
Table. Distinguishing Features of Halo Nevus and Melanoma (Open Table in a new window)
| | |
| --- | --- |
| Halo Nevus | Melanoma |
| Nevus cells in nests | Single atypical melanocytes at all levels of the epidermis and aggregates of atypical melanocytes in the dermis |
| Lesion symmetrical | Lesion asymmetrical |
| Maturation of nevus cells | Lack of maturation |
| Mitotic figures rare or absent | Mitotic figures present |
| Lymphocytic infiltrate present diffusely throughout lesion | Lymphocytic infiltrate tends to be at be concentrated at periphery |
What would you like to print?