Workup
Procedures
A skin biopsy can confirm the diagnosis of infantile digital fibromatosis.
Histologic Findings
Unique histologic features are diagnostic of infantile digital fibromatosis. Interlacing fascicles of uniform spindle-shaped myofibroblast cells and collagen bundles are seen in the dermis or subcutis. A characteristic feature is the presence of distinctive, perinuclear, eosinophilic cytoplasmic inclusion bodies. Masson trichrome stains these characteristic perinuclear inclusion bodies red. Immunohistochemical stains are positive for vimentin, cytokeratin, desmin, calponin, and alpha-smooth muscle actin. [6]
See the images below.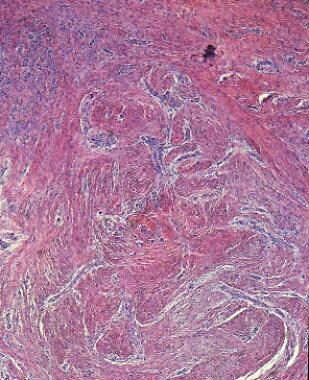 Dermal tumor with interlacing spindle-shaped cells and collagen bundles. Perinuclear eosinophilic inclusion bodies are not visible at this magnification.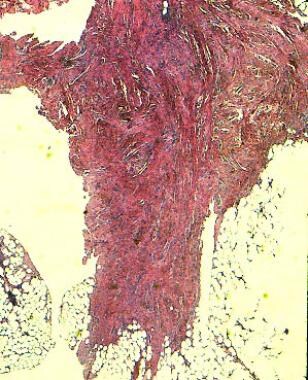 A dermal nodule extending into the subcutaneous fat.
What would you like to print?