Presentation
History
Patients report a slowly growing lesion present for several years and usually do not complain of discomfort. Lipomas are classified in the categories described below.
Solitary lipomas (most common)
Most solitary lipomas are superficial and small. Solitary lipomas may develop with weight gain but usually do not shrink after weight loss.
Diffuse congenital lipomatosis
Diffuse, poorly demarcated lipomas localized primarily on the trunk characterize this type, as shown in the image below.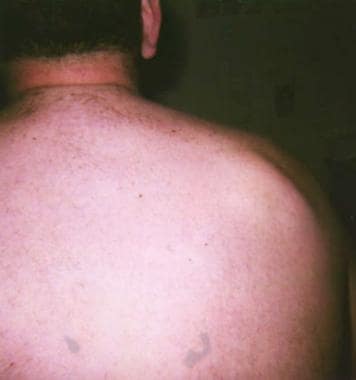 A 43-year-old white man with a 3- to 4-year history of a slow-growing asymptomatic growth on his right shoulder.
Tumors often infiltrate through muscle fibers, making them resistant to surgical excision. These tumors are composed of immature fat cells.
Benign symmetric lipomatosis (Madelung disease) [4, 5, 6]
Madelung described the condition in 1888. Lipomas of the head, neck, shoulders, and proximal upper extremities characterize this condition. Men are affected 4 times as often as women. The patient's history often includes excessive alcohol consumption or diabetes.
Other conditions associated with Madelung disease include malignant tumors of the upper airways, hyperuricemia, obesity, renal tubular acidosis, peripheral neuropathy, and liver disease.
Familial multiple lipomatosis
This clinical entity is characterized by few-to-many, small, well-demarcated, encapsulated lipomas that commonly involve the extremities. Typically, this form appears during or soon after adolescence. The neck and shoulders usually are spared (unlike benign symmetric lipomatosis). A family history of multiple lipomas usually exists, and an autosomal dominant mode of inheritance is expressed.
Dercum disease (adiposis dolorosa) [7, 8, 9, 10]
Painful lipomas are the hallmark of this rare condition. Lipomas typically occur on the extremities of obese postmenopausal women. Alcoholism, emotional instability, and depression are commonly associated.
Angiolipomas
These tender, soft, subcutaneous nodules are present in adolescence. These are lipomas that have a vascular component. Tumors frequently are multilobulated and firmer than ordinary lipomas. The associated pain is vague and may be spontaneous or caused by external pressure.
Hibernomas
Tumors are solitary well-circumscribed nodules that are asymptomatic. They are located in the interscapular region, axillae, neck, or mediastinum. Histologically, hibernomas are composed of embryonic brown lipoblasts that are termed mulberry cells because of their appearance on pathology.
Physical Examination
Lipomas present as subcutaneous nodules ranging from 2 cm to greater than 10 cm. There are cases of lipomas growing to very large sizes (over 30 cm) and causing discomfort and distortion to the body part involved; however, this is very rare. Lipomas feel soft and rubbery and are often multilobulated. Skin overlying the lesion is normal and not connected to the tumor. The neck, back, and proximal extremities are most commonly affected.
What would you like to print?