Treatment
Medical Care
When asymptomatic, lipomas can be left alone. When treatment is considered, surgical excision is the preferred treatment. In Dercum disease, medical treatment can be offered using steroids and analgesic medications. [18] Topical EMLA (eutectic mixture of lidocaine and prilocaine in a ratio of 1:1 by weight) also has been used for Dercum disease. [19] In a case report of two patients with Dercum disease and chronic hepatitis, interferon alfa-2b induced long-term pain relief. [20]
Mesotherapy [21, 22] is a treatment for body contouring that has been used for many years in Europe. Mesotherapy involves a series of injections containing many different ingredients, including vasodilators, nonsteroidal anti-inflammatory drugs, enzymes, and hormones. A common chemical used is lecithin (phosphatidylcholine isoproterenol), a lipolytic agent. However, one study showed that when lecithin solubilized with deoxycholate and was used to treat subcutaneous lipomas, the active ingredient was actually the deoxycholate rather than the phosphatidalcholine. [23, 24] This study suggested that low concentrations of deoxycholate may be a safe and effective treatment for small collections of fat.
A product manufactured in Europe uses a fat-dissolving injectable to treat lipomas. In 2018, a Polish study showed that Aqualyx (12alfa-dihydroxy-5beta-24-oico cholanic acid sodium salt) dissolved 70% of treated lipomas. The procedure was performed under ultrasound guidance. This is a form of injection lipolysis referred to as lipotherapy or intralipotherapy. [25]
Surgical Care
Multiple surgical techniques can be used in treating lipomas. It is important to evaluate infiltrating lipomas carefully when considering excision, since they can develop in intramuscular or intermuscular locations. They also can infiltrate into tendon, bone, and nerve tissue, thus requiring careful microdissection to preserve important structures. [26, 27, 28]
Simple surgical excision of lipomas
Mark the palpable borders on the skin before injecting with local anesthesia, as shown in the image below.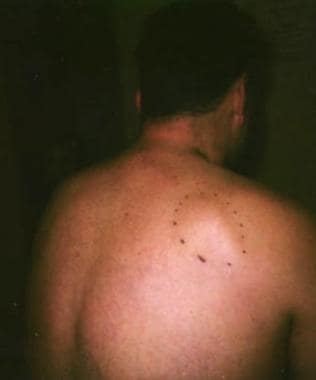 A 43-year-old man with a slow-growing asymptomatic growth.
Incise skin down to the lipoma capsule and dissect to free the mass from the surrounding tissue.
After obtaining hemostasis, close the dead space using buried absorbable sutures. Remove excess skin, close the wound, and apply a pressure dressing for 24 hours to prevent hematoma or seroma formation.
Squeeze technique (for small, superficial lipomas)
Make a stab incision, which can be as small as one-fourth of the lipoma's diameter. Express the lipoma by putting pressure on the lateral aspects of the incision, as shown in the image below.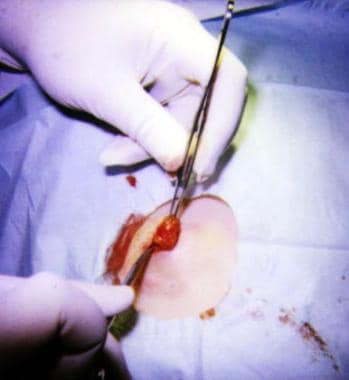 Surgical excision of a 6-cm lipoma on the back of a 54-year-old man using the squeeze technique.
Gentle dissection with a curette or blunt undermining may be required.
Liposuction for lipomas [27, 29, 30, 31]
Liposuction has been shown to be an excellent method for removing lipomas, angiolipomas, the lipomas of Madelung disease, and adiposis dolorosa. The advantages of liposuction include reduced operative time and smaller incisions.
What would you like to print?