Treatment
Surgical Care
Given the benign nature of neurilemmomas, therapy is conservative and directed toward sparing the parent nerve when one is identified. The treatment of choice is gross total resection of the tumor. Care should be taken during the surgery, as 75% of patients in a case series were found to have nerve fascicular involvement. [28, 35] In one study, 75% of patients experienced some immediate neurological deficit after excision, due to transection of fascicles that ran through the tumor. [36] An algorithm has been recommended, with nerve grafting as an option for excision of mixed-nerve schwannomas in young patients. [28] See the figure below.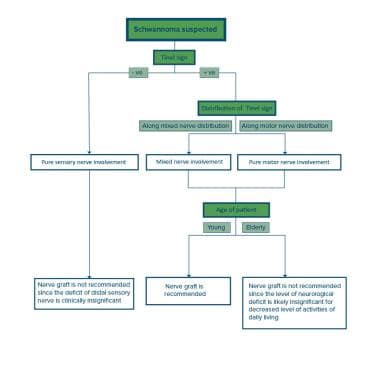 Management algorithm for schwannoma nerve graft.
Although neurilemmomas are benign, incomplete excision may result in slow local recurrence. Patients with asymptomatic neurilemmomas occurring in association with NF2 frequently present with more severe neurologic deficits. These patients have a high rate of recurrence and less postoperative improvement. Malignant transformation of neurilemmomas is exceedingly rare.
Prevention
Complete removal of the tumors with maximum preservation of parent nerves can prevent local recurrence.
Long-Term Monitoring
Higher recurrence rates are noted with the intraspinal, sacral, intracranial, and plexiform variants of neurilemmoma.
Periodic follow-up care following complete removal, with maximum preservation of the parent nerves in these variants, is recommended.
What would you like to print?