Overview
Background
In 1895, Jadassohn first described nevus sebaceus (see the image below), a circumscribed hamartomatous lesion predominantly composed of sebaceous glands. Sebaceous nevi and verrucous epidermal nevi are closely related, and many authors regard them as variants.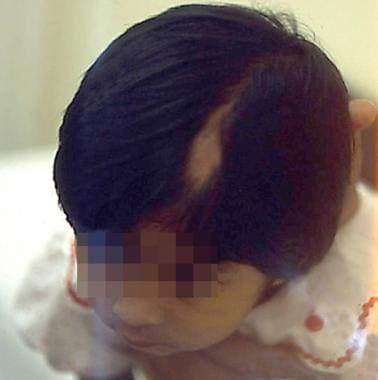 Nevus sebaceus manifesting as a bald patch in a child.
See 13 Common-to-Rare Infant Skin Conditions, a Critical Images slideshow, to help identify rashes, birthmarks, and other skin conditions encountered in infants.
Pathophysiology
In nevus sebaceus, postzygotic somatic mutations may result in various clinical expressions of mosaicism. Mutations in pluripotential cells may give rise to hamartomas with multiple cell lines.
Etiology
Familial cases have been reported. [1, 2, 3] Mutations in pluripotential cells during embryogenesis may generate varying lines of differentiation included in organoid nevi. Nevus sebaceus appears to respond to hormonal influences, as the lesion can be raised at birth, become flattened in childhood, and become raised again during puberty.
Deletions of the patched gene have been identified in nevus sebaceus and may be responsible for the predisposition to the development of basal cell carcinoma and other tumors in this lesion.
Epidemiology
Frequency
United States
Nevus sebaceus occurs with equal frequency in males and females of all races. Of newborns, 0.3% are affected by nevus sebaceus.
International
Sebaceous nevi are sporadic and occur with equal frequency in males and females of all races.
Race
Nevus sebaceus occurs with equal frequency in males and females of all races.
Sex
Males and females are equally affected by nevus sebaceus.
Age
Nevus sebaceus is usually noted as a solitary lesion at birth or in early childhood, whereas the characteristic features may not develop until puberty.
Prognosis
The medical importance of a solitary nevus sebaceus relates to the description of both benign change and, in some cases, malignant neoplastic change. While malignant transformation was reported in older series to occur in 10-15% of lesions, newer studies show this occurrence is certainly less than 1% and nearly always occurs after puberty. The most common malignant neoplasm arising in this disorder is basal cell carcinoma. Studies indicate that the development of basal cell carcinoma or any other malignant neoplasm is uncommon. The most frequent benign tumors are trichoblastomas and syringocystadenoma papilliferum, occurring in less than 5% of nevus sebaceus. [4, 5]
Other benign and malignant tumors include apocrine cystadenoma, leiomyoma and sebaceous cell carcinoma. Rarely, malignant eccrine poromas, sebaceous carcinomas, and apocrine carcinomas have been reported to result in widespread metastases and death.
Patient Education
Nevus sebaceous is a rare benign tumor in children that usually presents with warty patches of hair loss on the scalp.
The development of secondary malignant neoplasms within the nevus sebaceus is rare and occurs almost exclusively in adults.
Old reports overestimate the frequency of malignant tumors. This was due to misdiagnosis of basal cell carcinomas that were in fact trichoblastomas (benign form of neoplasm that look like basal cell carcinoma histologically).
Possible signs of malignancy include ulceration or a new "bump" on the area; thus if any change is seen within the nevus sebaceous, the patients should seek medical advice.
Given the low risk of malignant transformation in children, clinical follow-up is considered to be a safe alternative to prophylactic surgical excision.
If treatment is chosen, surgical excision would be the treatment of choice; however, the timing of the surgery is controversial.
Factors to be considered include the size and location of the nevus, its cosmetic significance, and the risks and benefits of early excision (which usually requires general anesthesia) versus delayed excision (which is usually with local anesthesia).
What would you like to print?