Presentation
History
Most patients with pearly penile papules seek dermatologic consultation because they are concerned about a sexually transmitted disease. Pearly penile papules most commonly are confused with condyloma acuminatum (genital warts) or less often, with molluscum contagiosum. [5]
Physical Examination
Upon physical examination, pearly penile papules appear as one or several rows of small, flesh-colored, smooth, dome-topped to filiform papules situated circumferentially around the corona or sulcus of the glans penis. [6] Uncommonly, lesions may extend onto the glans penis. In order to visualize the corona and sulcus of the penis in an uncircumcised male, it is often necessary to manually retract the foreskin. Generally, pearly penile papules are readily visible in circumcised men in the same anatomical sites.
Pearly penile papules typically are asymptomatic and persist throughout life; however, they gradually may become less noticeable with increased age. [1]
See the images below.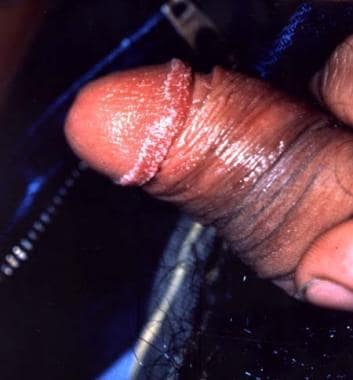 Pearly penile papules are seen clinically as multiple, glistening, flesh-colored, dome-topped papules arranged circumferentially in 2 rows along the corona of the glans penis.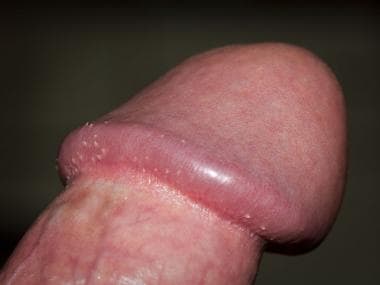 Pearly penile papules. Courtesy of Wiki Commons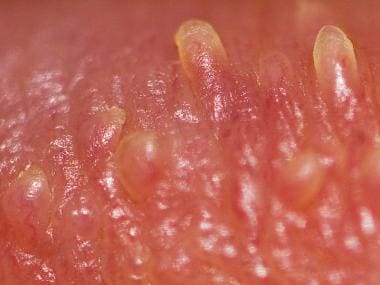 Pearly penile papules; close-up view. Courtesy of Wiki Commons.
Causes
Some evidence suggests that pearly penile papules may be observed more frequently in uncircumcised men (22%) than in circumcised men (12%). In the past, pearly penile papules were believed to contribute to the accumulation of smegma in uncircumcised men; currently however, this is known to be not true.
What would you like to print?