Presentation
History
Trichilemmal cysts occur preferentially in areas with dense hair follicle concentrations; therefore, 90% occur on the scalp. [3] They may be seen infrequently on the face, neck, trunk, and extremities. [1, 3, 15]
Trichilemmal cysts are solitary in 30% and multiple in 70% of patients. [10]
Trichilemmal cysts may be red, swollen, and tender if they have ruptured or become infected.
A family history may be present as the condition may have an autosomal dominant pattern of inheritance. [5, 6] Proposed clinical criteria for recognizing autosomal dominant hereditary cases include the diagnosis of trichilemmal cyst in 2 or more first- or second-degree relatives, age of diagnosis younger than 45 years, and diagnosis of multiple or large (>5 cm) cysts or rare histologic features such as proliferating and ossifying cysts. [16]
A proliferating trichilemmal cyst presents as a slow-growing nodule. [6] They are more common in women, and occur at a mean age of 65 years. [3]
Rapid growth is unusual and may be a sign of infection or malignancy. [1] Other suspicious features include nonscalp location, size larger than 5 cm, and an infiltrative growth pattern. [3]
Physical Examination
Trichilemmal cysts manifest as skin-colored, smooth, mobile, firm, and well-circumscribed nodules, [1, 6] as shown in the image below.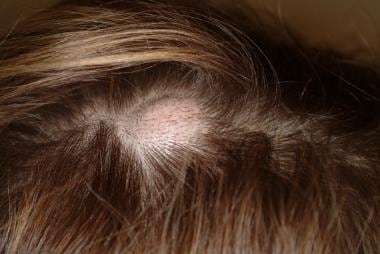 A firm, smooth swelling on the scalp.
Ninety percent of trichilemmal cysts occur on the head, and 70% occur as multiple lesions. [3, 10]
Unlike epidermoid cysts, no punctum is seen. [3] If they are inflamed, they may be tender, erythematous, or both. The contents occasionally extrude to form a soft, cutaneous horn.
The wall of a marsupialized cyst may fuse with the overlying epidermis to form a crypt. This may occasionally discharge its contents and then self-resolve.
Complications
Although most are asymptomatic, cyst infection and rupture may occur. [1] Cysts may be traumatized when combing or brushing hair. Proliferating trichilemmal cysts can invade surrounding structures and ulcerate. [1]
Malignant transformation is exceedingly rare but can occur. [1, 17]
What would you like to print?