Treatment
Medical Care
Painful, swollen, erythematous, and/or purulent cysts may indicate the presence of infection. A wound culture with directed therapy may be necessary. [1]
Surgical Care
Definitive treatment is complete excision of the cyst. Several methods can be used to surgically remove these cysts. A small linear incision, an elliptical excision (see image below), and a circular dermal punch incision all are effective ways to remove the cysts. [24]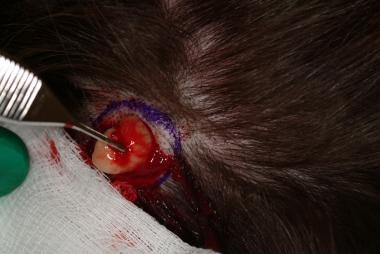 Surgical removal of an intact pilar cyst through an elliptical excision.
For all methods, the procedure involves the following steps:
Anesthetize the area with local anesthetic.

Over the center of the cyst, make a small linear incision, an elliptical excision, or a punch incision using a dermal punch biopsy tool.

Many times, the fibrous capsules of trichilemmal cysts are thick enough that the cyst can be removed intact via blunt dissection without expression of the contents. Alternatively, express the contents of the cyst, and then, using a curette, press against the inner wall, moving it back and forth to dislodge the outer side of the cyst from the surrounding tissue.

Grasp the edge of the cyst with forceps and separate the cyst wall from the surrounding connective tissue via blunt dissection.
If the cyst is ruptured or infected, deferring excision until the inflammation is reduced decreases the likelihood of spreading infection and wound healing problems. [1]
Most proliferating trichilemmal cysts are cured with complete surgical removal. [3] In the very occasional instances when multiple proliferating trichilemmal cysts require several local excisions, [8] additional radiotherapy and/or chemotherapy may be considered. [9]
What would you like to print?